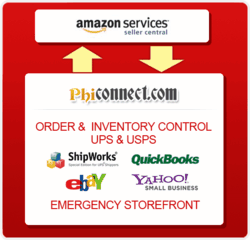 Start using our web service now and save time and labor for the 2011 holiday season so that you can spend more time with your own family.
Los Angeles, CA (PRWEB) October 28, 2011
Amazon.com and eBay order processing web service Phiconnect.com announces a new upgrade in Amazon web tools in preparation for the 2011 holiday season. With this new upgrade, e-retailers and sellers can download and process orders automatically. Amazon merchants can also list their existing items and new products easily from the Amazon item management screen.
PhiConnect introduces several key improvements. First, a new item management screen will display all the items from an e-retailer's storefront or inventory with Amazon listing status as active or inactive. Sellers will have the ability to choose and list items directly to Amazon.com. Second, sellers can set automatic order download directly from Amazon Seller Central. Third, inventory management will be more accurate. Since PhiConnect downloads orders automatically, quantity can be calculated more accurately after summing all pending orders, any time of day. The PhiConnect solution will then upload only the available quantity to Amazon Seller Central. Finally, merchants can select either PhiConnect or ShipWorks to print their UPS, FedEx, and US Postal Service labels. Any additional shipping discounts will be transferred directly to the sellers. PhiConnect can then upload shipping status and shipping tracking numbers to Amazon Seller Central.
"Many online retailers and sellers are looking for a true all-in-one system that provides a storefront, eBay & Amazon listing solution, order & inventory management, and shipping management. Our web service is that true working system and it is better than ever before with the new Amazon automatic management service," Daniel Kim, Team Leader, said. "Start using our web service now and save time and labor for the 2011 holiday season so that you can spend more time with your own family."
PhiConnect.com also offers a free consultation and a free trial. An e-commerce specialist will have an online demo session with you with many suggestions and guidance.
New Features:
Amazon Item Management Screen will show active and inactive status
Users can choose items to be submitted directly to Amazon Sellercentral
Automatic downloading of orders and uploading of shipping status with tracking numbers
Quantity and pricing can be uploaded automatically
Users can process multi-orders with preset conditions automatically
Users can choose to print shipping labels through PhiConnect or ShipWorks
About PhiConnect:
PhiConnect was developed by a Yahoo! Store user, eBay Titanium PowerSeller and Amazon seller, with 12 years experience. PhiConnect has helped many multi-million online sellers of multi-channels to reduce the time and labor of their inventory control, order processing and listing management. PhiConnect also offers an own storefront and shipping modules so sellers do not need switch between different software. PhiConnect's all-in-one platform can save time and money because online retailers will not need to subscribe to storefront, listing management, inventory control, order processing, and shipping module services separately. PhiConnect's platform gives online retailers the ability to distribute their product to multiple marketplaces including eBay, Amazon, Buy.com, Google Product Search, Shopping.com, PriceGrabber, and Shopzilla. Additionally, PhiConnect's automatic SEO feature can generate meta keywords, meta description, and URL rewrite automatically for search optimization for Google and Yahoo. For further information, please visit PhiConnect.com.
Media Contact:
Daniel Kim
info(at)PhiConnect(dot)com
562-941-8400
###