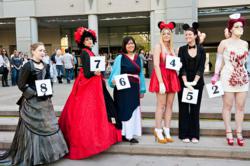 Los Angeles, CA (PRWEB) October 27, 2011
At a college where real thought goes into what to wear to school each day, creative ideas are brewing. On the downtown Los Angeles campus, future fashion and costume designers, merchandisers, and product developers are getting ready to compete at the annual Halloween Carnival, where the outfits are always inspiring.
Fashion Design major Jason Alvarez and friend Ivan Gil, will not be playing it safe. Alvarez has been sewing pelts on his faux rabbit fur cape for some weeks now. As a Gothic Indian, he'll be swathed in all black—leather, metal, fur, feathers, and fabric—in a costume inspired by Alexander McQueen. Gil has two fabulous looks in mind: he'll use bright colors and face paint to go tribal for his African-inspired day costume.
Julianna Erno-Pearce plans to channel her favorite Victoria's Secret angel, Adriana Lima. Merchandise Marketing major Kaylyn Roberts is putting together black shorts, sparkly bra, and pink "cupcakes" and "making it work" as her celebrity fave Katy Perry. And Diamond Cornelioun will be a naughty SWAT team girl in black fishnets, stilettos, and a pair of black rompers she found online.
Some students are turning to literary figures and TV for inspiration. Visual Communications major Kimberly Todd can't wait to be Disney's classic Tinkerbell: glittery green fabric, little flats with white pompoms, and wings are in the works. Willy Wonka fan Shalyn Jones is gathering the details for her Wonka costume, complete with an oversized hand–sewn wonka chocolate bar hanging out of her back pocket. And Madison Briede is surfing websites like ebay and etsy for period accessories to complete her authentic Pan Am stewardess look.
On the fashion college's downtown campus, students can research their ideas at the largest fashion library on the West Coast. In addition to vintage fashion magazines and books, the library has a classic movie collection for checking historic detail. The FIDM Museum & Galleries, on the downtown campus, presents annual exhibitions of the best costume designs from movies and television for students' and the public to draw inspiration.
With four dynamic California campuses, FIDM/Fashion Institute of Design & Merchandising is the premier west coast fashion design school, educating for careers in fashion, graphic design, interior design, and entertainment. FIDM's graduates include renowned fashion designers like Monique Lhuillier, Emmy® and Academy Award® award-winning costume designers, top fashion industry executives, and entrepreneurs.
###