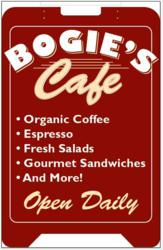 Music 6 Days a Week
San Rafael, Marin County, California (PRWEB) October 28, 2011
Michael Freed, owner of San Rafael's Bogie's Café and Soup To Nuts Catering, announced today the release of virtual coupon distribution through the new Bogie's Café mobile phone website at http://m.bogiescafemarin.info. Designed and built by San Francisco's Carefree Computing, the new mobile website gives Bogie's Café customers virtual coupons for a convenient, eco-friendly alternative to clipping traditional paper coupons -- all available in ten languages for Marin's international tourist traffic
.
"We've served Marin County for more than 9 years and we've always tried to stay on the cutting edge," says Freed. "From sourcing local organic produce to healthy specials for 'heart-smart' customers, everything we do is focused on giving the community the very best. And with the coupons on our new mobile website, the very best now includes instant savings."
To use the virtual coupons, customers simply log on to m.bogiescafemarin.info and view the latest offering. When the check arrives, customers show the virtual coupon displayed on their phone's screen and specials and deep discounts will be applied to the final total. In short, the process is just like traditional paper coupons -- only in a zero-waste, use-anytime model. Unlike paper coupons, there's no clipping or throwing away old expired ones; instead, modern technology has made the process easier for the customer and better for the environment.
In addition to the coupons, customers can view all relevant information about Bogie's Café: maps, directions, full menus, even tantalizing catering choices. All of this convenience comes without the hassle typically with coupons: finding, clipping, and remembering to bring traditional coupons or printing and bringing online coupons. This is particularly convenient for Marin's tourist traffic, as Bogie's Café is a popular stop for visitors of the Frank Lloyd Wright-designed Marin County Courthouse, China Camp State Park, and the Marin County Farmer's Market.
"Marin County is one of the world's greatest tourist destinations and our mobile website is designed to accommodate that," says Freed. "Whether it's a day at China Camp or a lunch break on the way to wine tasting, our multi-language approach on our mobile website ensures that just about everyone can enjoy this new service."
The new mobile phone website for Bogie's Café is available right now for all to enjoy: locals, tourists, and anyone else that wants to save money while enjoying some of the best food Marin County has to offer.
###