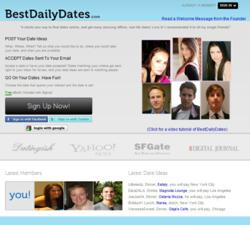 Dating just got easier! Singles not only get cool offline dates in no time, but also find answers to dating questions, and get advice from top dating, life, and intimacy coaches.
New York, NY (PRWEB) October 29, 2011
Today BestDailyDates.com (http://www.bestdailydates.com), the revolutionary dating platform, announces its expansion, and addition of new features. The site not only provides the easiest way to meet people online, and the fastest way to get offline dates, but also offers extensive resources for singles who want to explore, improve, grow, learn, and get inspired to live happier lives with fulfilling relationships with their romantic partners.
Dating Education Center
Singles not only seek other singles, but also look for answers and guidance surrounding the mysterious field of dating, and social skills. BestDailyDates compiled the most comprehensive list of the most frequently asked, and unanswered questions about dating, and created the Dating Education Center with complete answers provided by renowned dating experts. The answers can be easily browsed, and are grouped by themes making the experience even better. BestDailyDates also encourages members to exchange advice among each other through a user friendly, and growing Dating Forum.
Discovery Series of Interviews
BestDailyDates strongly believes in being more than a connection between singles, but also between singles and coaches, and experts. The site launches the Discovery Series of Interviews with the world's most successful dating, life, health and wellness, intimacy coaches, writers, bloggers, and also singles event planners. The interviewees speak about their background, experience, success stores, and share their priceless advice. BestDailyDates offers its members a way to improve their dating, social skills, and lifestyle – making their lives better, and fuller with newly met romantic partners. Finding a date is one thing, learning to be a great partner, lover, husband, and wife is another. BestDailyDates helps with both to offer a complete experience for its members.
Ebook - Top 100 Dating Questions Finally Answered!
For the members' convenience, and as a way to say thank you, the dating resources are also available in a form of a Free EBook for everyone joining the site, and for current members. The Ebook is also offered through Amazon Kindle Bookstore, and is priced at $2.99.
BestDailyDates has been created by frustrated single people for other frustrated single people. BestDailyDates provides a whole new dating experience taking the best out of the online and offline world. The service requires very little time spent online, and maximizes the number of dates the members will actually go on. The members can find out if they really have chemistry offline without wasting a lot of time online. The service is free, and easy to use.
About BestDailyDates, LLC.
BestDailyDates is a New York City based internet company. They own, and operate bestdailydates.com an online dating site.
For more information, please contact:
Eli Franklin
646-535-7493
info(at)bestdailydates(dot)com
###