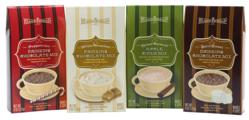 Maud Borup's relationship with Walmart allows everyone to enjoy gourmet drinking chocolates and cider mix, delivering sweet indulgence at a reasonable price.
Minneapolis, MN (PRWEB) October 27, 2011
Maud Borup, a 104-year-old chocolate company, today announced Walmart will carry their gourmet drinking chocolate and cider mix through the fall and winter months, expanding their original agreement to carry the beverages for the Christmas season.
About 2,000 Walmart stores in the U.S. are selling the boxed specialty beverages in the warm beverage aisle from September, 2011 through February, 2012. The beverages can also be found through Christmas in the seasonal food gift aisle in collector tins that are ideal for gift giving. Teri Kohler, Maud Borup national account manager said, "We've seen increasing consumer demand for Maud Borup's high-end drinking chocolates and cider mix. Customers have asked us to provide these decadent drinks beyond the holiday season and we've listened to their requests."
Drinking chocolate dates back to 600 B.C., spreading throughout Europe as a drink for the elite. Maud Borup has stayed true to the history of decadent drinking chocolate by having pure chocolate as the first ingredient. Fillers and thickeners are not used. "Our drinking chocolate is like drinking a rich, creamy chocolate bar," said Christine Lantinen, president of Maud Borup.
The drinking chocolates are available in smooth peppermint, decadent semi-sweet, and velvety white chocolate. Lantinen continues, "Our relationship with Walmart allows everyone to enjoy our drinking chocolates and cider mix, delivering sweet indulgence at a reasonable price." Maud Borup drinking chocolate and spiced caramel apple cider is available at Walmart now in eight-ounce packages for $3.98, making gourmet beverages an affordable everyday treat.
About Maud Borup
Maud Borup is a Minnesota-based wholesale chocolate company specializing in gourmet food gifts that whisk you back to childhood memories of Grandma's cookie jar and Mom's special treats. Our success is measured with each reminiscent smile. We supply specialty and national retailers with confectionary gifts designed to fit their store needs and customer preferences. http://www.maudborup.com
About Walmart
Wal-Mart Stores, Inc. serves customers and members more than 200 million times per week at over 9,600 retail units under 69 different banners in 28 countries. With fiscal year 2011 sales of $419 billion, Walmart employs 2.1 million associates worldwide. Walmart continues to be a leader in sustainability, corporate philanthropy, and employment opportunity. walmartstores.com.
###