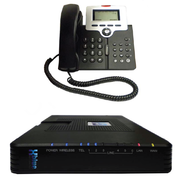 This amazing phone system combines traditional key phone features...with cutting-edge VoIP and Wireless technology...
Bay Shore, NY (PRWEB) October 27, 2011
TelcoDepot.com, a leading provider of small business phone system solutions including hosted PBX, conference phone systems, response point systems and VoIP gateways, has added the Xblue X-50 VoIP phone system, which is also the winner of the 2011 CEA Innovations "Portable Home Appliances Category" Design and Engineering Award, to its online phone system store. The innovative Xblue X-50 VoIP phone system has received critical acclaim as being the "best of both worlds", combining traditional Key Phone features with its advanced VoIP system and wireless router technology. Connected to a single internet phone service, the cost-saving small business phone system can use either traditional PSTN lines or new low cost VoIP lines and provides support for off-site home office or remote worker telephone systems via its wireless router technology while also featuring LAN support for a network PC/Printer and an analog extension for cordless phone or fax machine hookup. As a TelcoDepot.com high-value offer, TelcoDepot.com provides Xblue X-50 VoIP phone system shoppers with free shipping and great product support options.
The Xblue X-50 VoIP system is a unique "balanced technology" phone system product that combines VoIP and digital technology platforms to provide a solution that features the benefits of both technologies in a package that provides the greatest value to small businesses, allowing them to do more with less and pick the specific features that adapt best to their requirements.
The Xblue X-50 is a VoIP telephone system and Wireless Router for small businesses, which supports both traditional phone lines and new low cost VoIP phone lines. With Quick & Simple Installation, Easy Web-based Programming & Administration, Support for Off-site (home-office or remote worker) telephones and Optional 24-button modular DSS/BLF console, the X-50 qualifies as a truly innovative and focused solution for small businesses.
Standard features of the Xblue X-50 include: 14 telephone lines (6 standard, 8 VoIP), Support for 24 X-50 VoIP telephones, 4 Auto Receptionist ports (process 4 calls simultaneously), Voicemail System (32 hours Voicemail Storage), 1 Analog Telephone Port (for Fax or Cordless Telephone), 1 USB Port for network printer, Caller ID detection, Call Transfer/Forward/Conference, Call Abandon, Call Operator, Call Routing Table, Direct Inward Dialing (DID), Direct Inward System Access (DISA), Feature Access Code, Music on hold, Loop Break/Polarity Reversal (PR), PSTN Backup, Trunk Group, Paging Group, Class of Service, Office to Office connection, and Wi-Fi Protected Setup, among others.
Some features of the inbuilt Wireless Router include: Integrated Gateway/Router, Wireless 802.11 a/b/g/n, Integrated VoIP Proxy, WPS Security, Firewall Security, DHCP Server, NAT & Routing, Printer Server, QOS, NTP Synchronization, IP Filtering Rules, Port Triggering, Port Forwarding, DMZ Host, and Dynamic DNS, among others.
Regarding pricing, TelcoDepot.com provides the Xblue X-50 in several very affordable packages which also come with free shipping and great support options. The product is sold at the TelcoDepot.com online store in a number of configurations including the Xblue X-50 Server With 6 FXO ports / 8 SIP Trunk / 2 Phone Package ($1,535.00), Xblue X-50 Server With 6 FXO ports / 8 SIP Trunk / 4 Phone Package ($2,035.00), Xblue X-50 Server With 6 FXO ports / 8 SIP Trunk / 6 Phone Package ($2,536.00), and the Xblue X-50 Server With 6 FXO ports / 8 SIP Trunk / 8 Phone Package ($3,036.00), with certain components such as the Xblue X-50 Server With 6 FXO ports and 8 SIP Trunks ($1,150.00), Xblue X-2020 VoIP Phone for the X-50 System ($278.00) and the 24 Button DSS/BLF Modular Console ($98.00) sold alone as an option.
The Xblue X-50 won the Design and Engineering Award in the "Portable Home Appliances" category of the 2011 CEA Innovations Awards. Responding to the award, Larry Steinmetz, president and founder of XBLUE Networks was quoted as saying "It felt great...we've worked very hard to achieve this high level of technological recognition for the X-50 and our entire team is thrilled."
TelcoDepot.com is also happy to be able to offer the award-winning small business phone system to its customers. Quoting Tom Grinde, V.P. Sales of TelcoDepot;
"The do-it-all Xblue X-50 VoIP phone system is unique because finally we have a VoIP system that works like a Key system! This means that customers can get the benefits of a new VoIP system without giving up the key system features that they love. This amazing phone system combines traditional key phone features like modular 24-button DSS/BLF console, Direct Line Appearances, Analog support for cordless phone/Fax line and PSTN/SIP trunk line support with cutting-edge VoIP and Wireless technology supporting seamless off-site operation via IP phones, email delivery of voicemail messages and easy web-based administration and programming - this is a world first, and TelcoDepot.com is proud to be part of it!"
The new X-50 IP system debuted at the CES Show in Las Vegas, and is expected to exceed market expectations based on its versatility. It has received praise for its easy-to-install design right out of the box, and has been cited as a great money-saver for small businesses for its affordably low cost, reliability and multi-configurable business functions.
For more information on the Xblue X-50 VoIP phone system, including details of the offer and how to purchase, please point your browser to http://www.telcodepot.com/guide/xblue-x-50-2-to-24-users/218. For other inquiries, send an email to info (at) telcodepot.com, or call the TelcoDepot customer care line on 1-800-390-1200.
About TelcoDepot
Telco Depot is a leading supplier of quality business telephone systems, business VoIP service, VoIP phones, phone headset equipment, video surveillance systems, voice & data cabling solutions, conference phone solutions and Microsoft Response Point Systems. The company's top priority is to help its clients make informed decisions based on their specific small business phone system needs by providing experience and expertise and guiding them in selecting the best phone systems for their businesses. Telco Depot ensures that their phone systems are fully scalable, affordable priced, and provide the highest value for their clients.
###