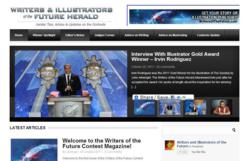 Hollywood, CA (PRWEB) October 27, 2011
After hundreds of requests for information and tips on the craft and art of writing and an avalanche of constant good news streaming in from past winners, the launch of the new L. Ron Hubbard Writers of the Future Contest Online magazine was announced by contest director, Joni Labaqui.
"There is so much information coming in from former winners on their projects, successes and publications on a routine basis we needed to get all of the news out there," Labaqui said.
The world's largest and oldest science fiction and fantasy contest for aspiring writers has now launched the magazine for the thousands of contestants and past winners over the past 28 years.
Jordan Ellinger will act as editor for the magazine because he is a Writers of the Future winner who has had his own success at online publications and knows the market well. "We are delighted to have Jordan on board," Labaqui continued.
Now in its 29th year, the Writers of the Future Contest attracts entries worldwide. Twelve quarterly winners receive prize monies and, along with selected finalists, are published in an annual anthology, L. Ron Hubbard Presents Writers of the Future (Galaxy Press).
Initiated by multiple New York Times bestselling author L. Ron Hubbard the contest has honored well over 330 writers with eight of becoming New York Times bestselling authors.
Visit writersofthefuture.com/writingcontestnews to read the first edition of the magazine.
###