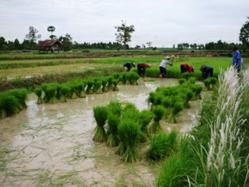 Rice Production @ VolkerKleinhenz.com
Phnom Penh, Cambodia (PRWEB) October 28, 2011
The price of rice on the world market has regained public interest. This is due to a number of recent events that include the serious monsoonal flooding in Southeast Asia. According to the Food and Agriculture Organization (FAO) of the United Nations, the seasonal flooding in Southeast Asia has destroyed nearly 2.5 million hectares of rice and the government of Thailand has introduced a subsided price of over $800 per ton of unmilled jasmine rice.
FAO statistics show that between 2000 and 2007 the world market price for rice steadily increased from $170 to $400 per ton. In April-May 2008 that price peaked beyond the $1,000 mark but leveled off to about $500 per ton thereafter. During the past few months, however, prices for rice are rising again and The Nation reported that this price has reached $615 in Thailand in early October 2011. Aseanaffairs.com stated that the Thai government has now introduced a guaranteed price of Thai Baht 25,000 ($820) for paddy jasmine and it is yet to be seen what effect this will have on the price of rice on the world market. Thailand and Vietnam are known to be the world's largest exporters of rice. Bloomberg and The Nation highlighted this by documenting the purchase of 1.7 million tons of rice by the Indonesian government from Vietnam (1.2m tons) and from Thailand (0.5m tons).
Volker publishes business plans for a number of crops cultivated with different agronomic techniques on his Crop Cultivation Webpage. While most cropping plans cover open-field crop management technologies including furrow irrigation, drip irrigation and sprinkler irrigation for multiple field-grown vegetables, one business plan features fertigated greenhouse tomatoes. The latest additions to this set of business plans include one for a traditional transplanted crop of rice and one for a directly sown rice crop. The plans are based on cultivating a 90-days crop of rice with commonly available two-wheeled tractors ("iron buffaloes"), irrigated with a water pump and fertilized with a compound mineral fertilizer. This plan can be used to calculate the profitability of rice production under locally prevailing costs for inputs including labor and fuel.
As Chief Agronomist and Director Agriculture Division Volker managed agricultural operations including coordination of resources and employees. Production forecasting and production-cost (input) budgeting comprise his key experiences within business-related farm operations. In Egypt he was responsible for acquiring, scheduling and applying fertilizers worth $2.7 million per annum for an agricultural acreage of 5,685 hectares under pivot irrigation. In India he developing cropping plans for open-field and greenhouse vegetable production on 2,688 hectares under furrow and drip irrigation.
As Director Quality Management he implemented quality control measures focusing on minimizing pesticide residue levels in multiple fresh products including tablegrapes. The latter produce was traced 365 days a year from worldwide including Brazil, Argentina, Chile, India, Egypt, Spain, Italy and Greece.
Volker's homepage also includes details of his consultations and scienticic achievements. These details are also available at Volker's LinkedIn Profile.
###