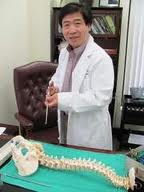 Most people can obtain relief with conservative treatment: anti-inflammatory medications, physical therapy, or chiropractic visits, plus avoiding activity that strains the neck or back.
Edison, NJ (PRWEB) October 28, 2011
Anyone who has experienced back pain knows how debilitating it can be. However, before treatment can begin, patients must understand what's causing the pain. Radiculopathy is any disease that affects spinal nerve roots. Numbness, tingling, weakness, loss of motor function, and radiating pain are common symptoms; the pain is often described as sharp and worsens with certain activities or positions. According to Kaixuan Liu MD, PhD, chief surgeon at Atlantic Spinal Care in Edison, N.J., "the good news for patients suffering with Radiculopathy is that there are more tools available today than ever before to provide relief."
Dr. Liu further explains that symptoms may also manifest in an extremity. For example, a nerve root problem in the neck (cervical Radiculopathy) can produce pain and weakness in the forearm, and an impingement in the lower back can manifest in the foot. The nerve(s) may be inflamed, pinched, or ineffective due to a lack of blood flow; alternately, a progressive disease may be destroying the nerve. Genetic disposition, a spine injury, or a job that requires repetitive motions or heavy lifting are all risk factors for chronic Radiculopathy.
"One test used to diagnose lumbar (back) Radiculopathy is the "straight raise leg," adds Dr. Liu. This test can be done sitting or lying down while an examiner lifts the patient's leg to 90 degrees while keeping the knee straight. Normally, the movement causes the nerve to glide. A positive test occurs when the movement causes pain and other symptoms because the gliding nerve is pressed and pulled against the disc causing pain.
Non-surgical Radiculopathy treatment
According to Dr. Liu, "most people can obtain relief with conservative treatment: anti-inflammatory medications, physical therapy, or chiropractic visits, plus avoiding activity that strains the neck or back." With this approach, symptoms often improve within six weeks to three months. If not, patients may benefit from an epidural injection wherein a physician injects steroid (or saline) medication between the bones of the spine adjacent to the involved nerves. This can help to rapidly reduce the inflammation and irritation of the nerve and help reduce radiculopathy symptoms. In a recent multicenter trial conducted in Norway that assessed the efficacy of these injections at 6 weeks, 12 weeks, and 52 weeks, all patients improved after treatment. Although epidural steroid injections may be performed within months to years of symptom onset, the treatment is most effective in acute cases three to six months after symptoms have started.
Surgical intervention
If the condition still does not respond, surgery may be needed. "Surgical intervention may be necessary if there are significant and progressive motor deficits, such as bowel and bladder dysfunction," says Dr. Liu. Depending on the cause of the radiculopathy, removing compression from the nerve can be achieved by a laminectomy or a discectomy. A laminectomy removes a small portion of the bone covering the nerve to allow it to have additional space. A discectomy removes the portion of the disc that has herniated out and is compressing a nerve. Some variations include:
Discectomy plus fusion
Discectomy involves removing all or part of an intervertebral disc. Spinal fusion involves placing bone graft between two or more opposing vertebrae to promote bone growth between the vertebral bodies.
Endoscopic discectomy
Endoscopic discectomy is a surgical procedure used to remove damaged disc material that is causing pain in the lower back. Endoscopic discectomy is a modern technique that does not involve bone removal, muscle damage, or large skin incisions.
Microdiscectomy
A special microscope is used to view the disc and nerves, which allows the surgeon to make a smaller, less invasive cut.
Chemonucleolysis
Chemonucleolysis involves dissolving the gelatinous cushioning material in an intervertebral disk by injecting an enzyme.
Dr. Liu recommends that patients experiencing chronic Radiculopathy seek out an experienced endoscopic spine surgeon for evaluation and consideration of treatment options specific for their case.
About Dr. Liu: Kaixuan Liu, M.D., Ph.D., is a renowned endoscopic spine surgeon and founder of Atlantic Spinal Care, LLC, in Edison, New Jersey (http://www.atlanticspinalcare.com). Dr. Liu is certified by The American Board of Pain Medicine and The American Board of Anesthesiology, and is a member of The International Society for Advancement of Spine Surgery, The American Society of Interventional Pain Physicians (ASIPP), The American Academy of Pain Medicine (AAPM), The International Intradiscal Therapy Society (IITS), and The American Society of Anesthesiologists (ASA). He also serves as an international surgeon for The Spinal Foundations in England.
###