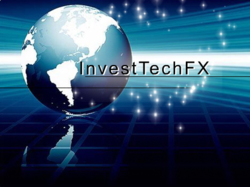 Forex ECN - The Wave Of The Future
Hong Kong (PRWEB) October 27, 2011
InvestTechFX is making moves to prove that there is no need to keep looking for the lowest spreads when comparing brokers and other Fx Trading companies dealing in the markets. InvestTechFX looks to make that decision a no brainer with it's latest move. InvestTechFX had recently merged with an Asian-based operation, allowing traders to compare them to brokers by offering Forex ECN platform trading options and more profitable opportunities.
InvestTechFX's management team proposed the creation of a new management structure designed to expand upon its core strengths as a software solutions company providing the MT4 platform. The proposal was approved and lead to a merger with the Asian-based operation. This merger has allowed InvestTechFX to offer clients direct access to (ECN) Electronic Communications Network as well continuing STP service. Previously, InvestTechFX acted strictly as an Straight Through Processor (STP) and No Dealing Desk (NDD) . As recognized in the industry, InvestTechFX was solely a Non-Dealing Desk Software Solutions Company that processed clients' trades on the STP network uninterrupted to the Interbank. Now with this new merger, InvestTechFX will be joining the latest trends in the Forex currency exchange Industry by moving to the Forex ECN platform of trading while maintaining STP platform, which makes it a more competitive machine in the industry. InvestTechFX also separates themselves from other companies dealing in the Forex world by offering the best client service with a high standard of retention by offering benefits to their long term traders.
InvestTechFX is confident that their spreads are the absolute lowest in the industry and ask people to see for themselves and start trading with just a minimal investment of 100 USD to begin a new relationship with the software solutions company! To view the typical Forex spreads on every pair offered, please see the table at the bottom of the page.
Our spreads on the MetaTrader 4 platform are variable, with feeds coming through from as many as 70 institutions. This relationship allows us to offer industry-leading spreads as low as 0.5 pips. Spreads on the majors can go below 1-pip during liquidity times, and typical spreads are listed below. Other companies and brokers do not offer tight spreads like InvestTechFX has to offer.
Please note that the MetaTrader 4 platform works on a 5-point decimal system. For example, EUR/USD may give a price of 1.39913/1.39919, which is 0.5 pips. Also, please note that a volume of 1 lot = 100,000 of the first named currency which is available on macro and mini lots are also available.
In October 2011, InvestechFX was pleased to announce even tighter spreads on the six majors. The company's tight variable spreads are some of the most competitive prices in the Forex trading market and the average spread for EUR/USD is 0.5 pips. This has been reduced and will change the Fx Trading market for all traders alike!
With spreads from as low as 0.5 pips, and EUR/USD being the most commonly traded FX pair in the world, the InvestTechFX team are pleased to bring this outstanding news.
More About InvestTechFX
InvestTechFX software solutions deals with the Forex Market offering specialized Money Manager, IB and White Label services as well as many benefits including tight fixed pip spreads, leverage ranging from 1:100 to 1:500 to permit the use of scalping, hedging options and Expert Advisors. InvestTechFX is a No Dealing Desk (NDD) and Straight Through Processing (STP) Forex company offering an industry leading 0.5 pip on all 6 majors while trading on the MT4 platform.
For the months of October and November of 2011 InvestTechFX is offering some excellent Fx trading bonuses depending on the amount of the deposit. For example a deposit of $250 clients can receive a 10% trading bonus. In addition Standard account customers will be granted for a trading bonus of 25 % instead of 20 % and meanwhile those who deposit $10,000 will receive a trading bonus of 40 % and $20,000 deposits will receive a trading bonus of 30%. Bonuses are for trading purposes only.
For further details go to http://www.investtechfx.com.
###