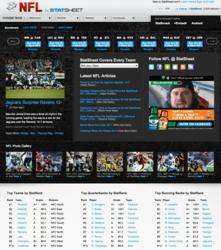 Durham, N.C. (PRWEB) October 27, 2011
Adding to its rapidly growing network of over 400 sports sites and web and mobile applications, StatSheet announced today the launch of its fully-automated, real-time coverage of the National Football League (NFL). Now hard-core and casual-fans alike can enjoy comprehensive coverage of their favorite NFL teams, whenever and however they want it. StatSheet's NFL offering includes individual team sites, web and mobile applications, Facebook pages, Twitter accounts and e-mail newsletters for all 32 NFL teams, as well as a league-wide web site at http://statsheet.com/nfl.
Building on the success of StatSheet's mobile applications and Twitter accounts for college basketball and Major League Baseball, StatSheet's NFL presence includes Android applications and Twitter accounts for every NFL team, with a league-wide iPhone application coming soon. Fans are now able to receive scores, live play-by-play and StatSheet's data-driven analysis in real time via Twitter, as well as on their mobile devices. StatSheet's network of NFL team sites already boasts more than 60,000 Twitter followers.
Like all of StatSheet's initiatives, StatSheet's NFL coverage is powered by a database of over 2 billion statistics and its unique artificial intelligence technology. The result is unprecedented levels of insight and analysis. Each site includes proprietary metrics like StatSheet's Fan Satisfaction Index that provides a measure of how fans feel about their team at any point in the season. Each site also includes Game Previews and Game Recaps with individual player grades for every game and every skill position. These metrics put the performance of both players and teams into historical context. For example, due to the explosion in the passing game this season, there are currently four NFL quarterbacks whose season to-date performances merit an A+ (Aaron Rodgers, Tom Brady, Drew Brees and the surprising Cam Newton). However, there is only one team that has earned an A+ at this point -- the undefeated, reigning Super Bowl Champion, Green Bay Packers with a 97.9 (see http://cheeseheadhaven.com). On the other side of the spectrum, the St. Louis Rams and the Indianapolis Colts have been the two weakest performing teams this year, with grades of 60.5 and 60.8 respectively.
In addition to insights and analysis, StatSheet's NFL coverage provides opportunities for fans to interact with the data. StatSheet's Compare functionality allows fans to compare the strengths and weaknesses of any team or player (see http://herewegostillers.com/pittsburgh-steelers/compare_stats). StatSheet's Embed functionality allows fans to integrate historical or real-time stats, charts and other graphical elements into their own websites or blogs (see http://embed.statsheet.com/nfl). And because StatSheet recognizes that rivalries are what make sports so much fun to follow, StatSheet even uses its technology to automate the art of trash-talking with its popular StatSmack application (see http://statsheet.com/nfl/index/stat_smack).
About StatSheet
StatSheet is a subsidiary of Automated Insights, Inc. and represents the next revolution in content creation. StatSheet's technology automatically transforms raw data into compelling narrative content (articles, summaries, headlines), visual displays (charts, tables, graphs) and interactive applications (mobile and Twitter/Facebook–based social applications). In essence, the company uses technology to humanize big data, and automate knowledge and insight at scale. StatSheet converts a rapidly growing data set of over 2 billion statistics into comprehensive and compelling coverage of NCAA college basketball, Major League Baseball and the National Football League. The company currently publishes over 15,000 articles per month through its network of more than 400 team-centric websites, mobile applications and Twitter and Facebook accounts. Later this fall, Automated Insights will launch its NCAA college football coverage. To learn more, visit http://www.automatedinsights.com and http://www.statsheet.com.
# # #