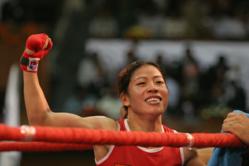 I am aware of the billion hopes I am carrying. I can't let the people of India down. What I am most looking forward to is to becoming the first woman boxer to win a gold medal at the Olympic Games
(PRWEB) October 28, 2011
As women's boxing prepares to make its Olympic debut in London in 2012, India's flyweight star Mary Kom is confident of becoming the sport's first Olympic gold medallist.
Having hosted the Olympic Games in 1908 and 1948, London will next year become the first city to host the Games for a third time. But that isn't the only reason that London 2012 will be making history. It will also be the first Games to feature women's boxing, meaning that both men and women will be competing in every Olympic sport. The historic decision to include women's boxing in London 2012 dates back to 13 August 2009, when, following an IOC executive board meeting, IOC President Jacques Rogge announced that the sport would be added to the Olympic programme.
The decision was a dream come true for India's Mangte Chungneijang Merykom, otherwise known as Mary Kom, who has helped the sport achieve its Olympic ambition by demonstrating its global popularity with her success at the Women's World Boxing Championships.
"A dream come true"
"At first I could not believe my ears," says the five-time world champion when she thinks back to that momentous day in 2009. "But when it was confirmed, I was so happy. I have won everything that could be won, but it was the Olympic gold medal that still eluded me. Now it's a dream come true for me to get the chance to represent my nation at the Olympic Games when I am at the peak of my career."
The five consecutive world titles speak volumes about Kom's grit, hard work and determination. Born into a family of farmers in a village in Manipur – a small state in north-eastern India – the 28-year-old learned to live with poverty from an early age.
A burning passion
"We were very poor and I used to help my parents in the field after coming back from school," she recalls. "I used to bring firewood from the jungle, which was used for cooking food."
Mary was an all-round athlete and excelled in local and school sports events. It was a burning passion and love for sports that pushed her to scale such heights and achieve what other women would not have even dreamed of.
"Yes, I was an all-round athlete; good at almost every sport, especially football, karate and judo. I took an active part in school and village sports and won many accolades there too. However, I wanted to make it big and didn't quite know which sport to go for, or how and where to get enrolled and get started."
Secret training
Finally, in 1998, inspired by the success of Dingko Singh, another boxer from Manipur, who won gold at that year's Asian Games, Kom secretly began training with a local boxing coach, without the knowledge of her father. One of her cousins was supportive of her endeavour and she helped her procure second-hand boxing gloves from a local market.
"With Dingko Singh winning gold in the 1998 Asian Games, boxing went through a new wave in Manipur," says Kom. "I was one of the many youngsters who took to boxing at that time.
"Luckily for me, women's boxing started in Manipur just after and there was ample opportunity to succeed as it was new to the state and there were no women who had already mastered the sport. Everyone was on equal footing. This is how I took up boxing."
Her parents did not support her passion, however, fearing that the sport would leave scars on her face. Kom continued without their approval and knowledge, and they only came to know of her endeavours after seeing her picture in a local newspaper when she had won the state championship.
Kom: "Nothing that could stop me"
"It was tough as I had to lie to my parents every day," recalls Kom. "But I was sure that if I was successful, I would be able to convince them and move forward. Luckily for me I succeeded at the state level and thereafter could persuade my parents with the help of my cousins. Once they were convinced, there was nothing that could stop me and here I am today."
Kom, who competes in the flyweight category (48-51kg), opened her international account with a silver medal in the 2001 Women's World Amateur Boxing Championships – the same year that she won the 1st National Women's Boxing Championship of India.
"I was still ignorant about the women's world boxing scene when I went for the World Championship," says Kom. "I wasn't very confident of winning, but I just tried to focus on my game and went on to win the silver. That itself was great for me.
Invincible since 2002
"Apart from the silver medal, what I gained most from the experience was confidence. I came to know that I can compete at the highest level if I keep working hard, and so I did just that." Kom came back to win gold at the 2002 Women's World Amateur Boxing Championship in Turkey and has been invincible ever since, winning gold in its next four editions in Russia (2005), India (2006), China (2008) and Barbados (2010).
"After the silver in the USA, I travelled to Turkey aiming for gold. I was much more confident than before and knew my competitors well," reveals Kom. "Yes, I am elated to have defended my title successfully four times and would like to continue to do so as long as I compete." In between her successes on the world stage, Kom has won many other national and international tournaments, most recently taking a gold medal at the Asian Cup Women's Boxing event in China in May. But what she is most looking forward to is the 2012 Olympic Games in London, for which she is leaving no stone unturned in her quest to bring home a gold medal for India, as she carries the hopes of a billion people on her shoulders.
"My aim is to win gold in London and I am training harder than ever," she says. "I am aware of the billion hopes I am carrying. I can't let the people of India down. What I am most looking forward to is to becoming the first woman boxer to win a gold medal at the Olympic Games."
For more information, please contact the IOC Media Relations Team:
Tel: +41 21 621 6000
###