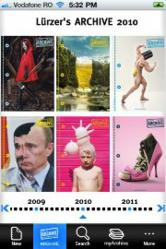 (PRWEB) October 29, 2011
Lürzer's Archive, the world's most stolen advertising magazine, has just launched the long-awaited iPhone app, developed by Mind Treat Studios, to keep on showcasing the very best of advertising not only in our magazine and on our website but also on the iPhone and – soon- the iPad.
We shall be bringing more than 160 issues of pure creativity, more than 40,000 outstanding print campaigns, and over 6,000 full-screen spots in first rate HD quality to your iPhone.
"We've spent more than one year polishing and perfecting our app and we are proud of its features. Although one can access all the editorial content from the past 27 years, the application is less than 2 MB. Loading speed is adapted for the iPhone, giving you a new shiny search engine that delivers better results. We learn from our readers' feedback and have also included easy-to-access tutorials. For offline browsing, one can choose to download only the desire content to the device and enjoy it at full speed.The most amazing thing about this, however, is the price: just $99 a year to access the website, iPhone app, and soon-to-be-released iPad app. And we offer a full edition of our publication free within the app. Just check it out on the iTunes store or on our website http://www.luerzerarchive.com, This is a great app for every adman, adwoman, professional or amateur photographer, and connoisseurs of great art and great advertising."
Lürzer´s Archive has a solid reputation for its pioneering and market leadership in archiving and selecting the very best advertising.
For more information about Lürzer´s Archive, please visit http://www.luerzersarchive.com, join us on Facebook(R) at http://www.facebook.com/Luerzersarchive or follow us on Twitter(R) at http://www.twitter.com/luerzersarchive .
Complete features list
1. NEW: easy to track new issues and new info: personal notifications and the newest issue
2. ARCHIVE: access Lürzer´s Archive from anywhere: more than 160 issues (since 1984) with advertising worldwide (over 40.000 print ads and 6.000 TV Spots)
3. Full Screen Ad view: HD Quality, classified credits (like in our print magazine you have full credits of the creatives behind the campaign which are linked to there contact information)
4. SEARCH: Media categorized results, rank prioritized results, partial matches system
5. myARCHIVE: put your own Lürzer´s Archive featuring your favorite work
6. myDOWNLOADS: Save entire issues for offline browsing
7. myLISTS: Organize campaigns in personal folders and lists
8. MORE: Account manager, Download manager, Feedback, About
9. Tutorials: We offer you tutorials to explain how you can do it and where you can find what you need
About Lürzer´s Archive
Founded in 1984, the Lürzer's ARCHIVE publishing house is a family business originally launched by Walter Lürzer and now being continued by his family. Headquartered in Vienna, the company has offices in New York, London, Frankfurt, Bucharest, and Beijing.
Lürzer´s Archive is a unique review dedicated to presenting the best new print campaigns, TV commercials and digital designs from all over the world.
###