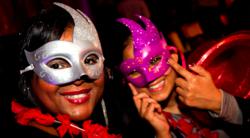 Companies are increasingly recognising the value of the Christmas party.
Brighton, UK (PRWEB UK) 31 October 2011
"Traditional themes such as Dickens' 'A Christmas Carol' and the enduring 'Winter Wonderland' look have been superseded by production themes such as 'The Chocolate Factory' and 'Viva Vegas', which are packed with interactive entertainment and vibrant decor," said a spokesperson for the company.
The figures are part of the company's market trends data based on spending in 2010 and bookings made for 2011.
They show that the average cost per head has distinct regional differences, with the greatest gap appearing between London and non-London events. While Christmas parties in London cost an average of £90 per head for exclusive events and £65 for shared parties, those outside the capital cost an average of £79 and £45 respectively.
Nevertheless, the market outside London is seeing good growth in exclusive events, with an increased spend of £20 per head since 2010. The spend per head for shared parties has also increased, but only by £2.
Figures for London-based parties show that the average spend per head of £96 in 2010 is down to £90 in 2011 for exclusive parties. For shared parties, the £67 spend per head in 2010 is down by £2 to £65 per head this year.
The group size of the average party outside London has also increased. Exclusive parties in 2011 will contain an average of 158 people (up from 150 in 2010), while shared parties will contain an average of 30 people (up from 26 in 2010).
Within London, the average group size will be 113 people, which is down from 118 in 2010. However, shared parties are up, from an average of 26 to 30.
As the year slowly draws to a close, the annual Christmas office party has become an institution that office workers across the country look forward to. It allows employees to celebrate the year's achievements and to temporarily forget the hierarchies that dominate the normal working day.
The informality of a party provides the antidote to tensions that may have been building up during the year. They're also great for bonding – a fact that has been well documented by business culture and management theorists.
"Companies are increasingly recognising the value of the Christmas party," agrees a spokesperson from Office Christmas.
"Christmas party attendance and bookings at Office Christmas are on the rise overall this year, meaning there are even more revellers enjoying their festivities with Office Christmas."
The sophisticated events that modern office workers have come to expect are a far cry from the debauchery that seemed inherent to the parties of yesteryear. A 1964 issue of the Gadsden Times newspaper described a typical bash as "somewhere in between a Roman orgy, a Sioux scalping raid, and the attack on the Bastille."
Nowadays, parties combine everything from extravagant themed settings to gourmet food and cutting-edge entertainment. In an effort to satisfy their employees' – and the Health and Safety Executive's – expectations, companies are increasingly seeking outside assistance to ensure that parties portray their core values and reinforce their public image.
On the other hand, business is business. Office parties don't generate directly tangible benefits that can be recorded on the balance sheet. With this in mind, a company's management has the tricky task of throwing a good party on a limited budget.
Alasdair Adam, MD at Office Christmas says the solution is in the timing:
"Whilst companies are happy to spend money on a good Christmas party, the need to include more entertainment or stage bigger productions is met with a greater flexibility to consider off-peak dates when the most competitive rates can be secured."
About Office Christmas:
Office Christmas is part of the Office Events group, together with Office Summer, Millennia Events and Theme-Works. Since opening its doors at the dawn of the new millennium, Office Events has become the UK's premier provider in service-led event solutions. With a core team of 30 industry professionals and a pool of 150 production staff, the company provides year-round corporate events in the UK and across Europe, generating a turnover of £8 million.
From its headquarters in Brighton's culturally vibrant North Laine area, Office Events offers clients a range of bespoke entertainment possibilities, from lavish summer and Christmas parties to activity-based foreign travel programmes. Office Events also has premises in London and Manchester, both of which are open between 9am and 5.30pm, Monday to Friday.
###