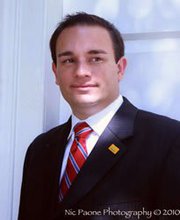 I am glad Grimm ultimately decided to support H.R.459, but if he thinks this will get him off the hook for his voting record so far he is mistaken.
New York (PRWEB) October 27, 2011
In an October 25 move surprising to some observers, Rep. Michael Grimm (NY-13) announced via Facebook his co-sponsorship of Rep. Ron Paul's bill, H.R. 459, to audit the Federal Reserve, notes New York State Assembly hopeful Danny Panzella. The announcement came 24 hours after a confrontation at Zuccotti Park in which Grimm told Panzella that he would not support H.R.459 because Ron Paul is "too radical" and the bill goes "too far."
Grimm agreed in a 2010 campaign debate to support a Federal Reserve audit.
"Did I and other constituents calling for support of a Fed audit persuade Grimm in just 24 hours to change his mind 180 degrees?" asks Panzella. It is unclear, the 63rd District candidate went on to say, whether the decision reflects a sincere change of heart or is a tactic to win back disenchanted Tea Party voters.
"I am glad Grimm ultimately decided to support H.R.459, but if he thinks this will get him off the hook for his voting record so far he is mistaken," warns Panzella. "We will continue to hold his feet to the fire until we see a consistent, constitutional voting record."
On October 24, Panzella confronted Grimm at Zuccotti Park in lower Manhattan. Tea partiers, many of whom had campaigned to elect Grimm in 2010, have expressed some displeasure with Grimm for giving his presidential endorsement to Romney. Romney, who supported the TARP bank bailouts and state mandated health care, is viewed by some tea partiers as out of step with the values of Tea Party America, explains Panzella.
Rep. Grimm, who was at the Occupy Wall Street protests on that day to appear on Geraldo At Large on the Fox News Network, was confronted off-camera by Panzella.
"Grimm boasts that he took the oath to the Constitution three times," Panzella explains, "yet he continually votes in violation of its principles. I told him that the Tea Party worked hard to get him elected, and now he has turned his back on them."
Panzella depicts Grimm's vote to increase the debt ceiling, which includes the "Super Congress" piece of legislation, as a constitutional violation and an affront to representative democracy. "I didn't elect the Super Congress to represent me," Panzella insists. "Rep. Grimm has no right to hand over the elected power that NY-13 bestowed on him to another official."
The confrontation came just days after both Panzella and Grimm appeared on Freedom Watch with Judge Napolitano on Fox News.
"[Grimm] came into the Tea Party saying 'I'm with you guys,'" Panzella told Napolitano. "They worked hard to get him elected."
In 2010 speeches to Tea Party groups, then-candidate Grimm said, "The Tea Party is the purest expression of democracy I have seen in my lifetime . . . They inspire and motivate me." His voting record tells a different story, insists Panzella.
"Rep. Grimm consistently votes against Tea Party principles, voting for increased spending measures as well as raising the debt ceiling, something he promised he would not do."
A full audit of the Federal Reserve, the central bank that prints the U.S. dollar, has been a primary policy demand for members of the Tea Party. After the success of a partial audit revealed that the central bank distributed $16 trillion to banks and corporations throughout the world, criticism of the Federal Reserve and its chairman, Ben Bernanke, has taken a prominent role in the ongoing Republican presidential debates.
###