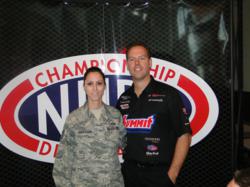 Summit Racing is honored to to be a part of this trip and show continued support of our troops.
Jim Greenleaf, Summit Racing Motorsports and Events Manager
Tallmadge, OH (PRWEB) October 27, 2011
Team Summit drivers will be spending three days visiting with military personnel as well as wounded troops at Landstuhl Regional Medical Center and the Wounded Warrior Center. The 86th Services Squadron will host the drivers and provide transportation and logistics support during the visit. Major (retired) Dieter Protsch and Sfc (Retired) Wayne Reed of the Army Special Forces Association Chapter 64 (Carlisle, PA) will accompany the team as tour coordinators.
The trip marks the seventh consecutive year NHRA pro-class racers have visited troops overseas. This is the first visit for Greg Anderson; Jason Line, Rickie Jones, and Dan Runte made the trip in 2010.
"This will be my third time, and it's just a great trip—you feel like you've done something good," said Jason Line. "Those people are doing good every day just doing their jobs, and if we're able to bring them a little slice of home to show our appreciation for what they do."
"I'm glad to have the chance to join( Jason) this year," Greg Anderson said. "These people sacrifice so much to allow us to enjoy our freedom. I think it's important to go and spend some time with them and show our appreciation."
"This will be my second year traveling overseas with Team Summit. It is truly an honor to meet and visit with the men and women that have sacrificed so much for our nation," explained Rickie Jones. "The joy that we can bring by simply expressing our appreciation for their dedication and service is amazing."
Dan Runte echoed his Team Summit partners. "Our troops spend so much time away from their families and friends protecting all of us at home. Anything we can do to show them that we appreciate their sacrifice is time and effort well spent."
Team Summit will be in Germany from November 20 through November 23. The racers will be blogging during the trip. The blogs and photos will be posted on http://www.SummitRacing.com and http://www.NHRA.com.
###