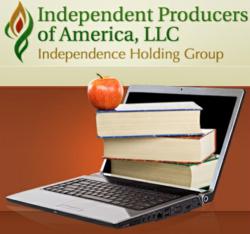 We are very excited about the impact these platforms are having for the success of our sales force and overall performance of our organization.
Tampa, Florida (PRWEB) October 29, 2011
Independent Producers of America, LLC (IPA) and its "Good News Crew" announced its launch of a new and improved interactive online training platform for its career dedicated sales force. IPA launched its original version in the spring of 2010 and has continued to enhance its knowledge base as an ongoing process to keep up with the rapid growth of technology and industry regulations. From the moment that someone becomes an official member of The IPA Family IPA immediately ignites individual education and training initiatives. Whether it is the vast internal A-Z knowledge they will receive or guidance through any external state certification procedures that may be required, the newest IPA Family member will have the leadership mentoring and personal assistance to make their educational journey a very enjoyable experience. National Training and Operations Leader Sondra Bradley commented, "We are very excited about the impact these platforms are having on the success of our sales force and overall performance of our organization. It is proven that IPA's state of the art training initiatives are having a direct impact on their growth and quality of business."
The education and training experience begins with immediate access to the web based IPA Wisdom Library that guides an individual through a training series entitled R.E.A.C.H. This comprehensive program represents the necessary knowledge items relating to:
Relations: Covers all of the company entities that IPA represents and the requirements for doing business;
Education: All product offerings, business processes, and general global knowledge to perform in the marketplace;
Activity: Covers lead programs, marketing strategies, appointment inventories, time management, and equips the new IPA Family member with the tools to excel and grow performance;
Compensation: A very detailed area specific to how IPA Family members earn income for today while building wealth for themselves and their family's future; and
Honors: All of the fun things the IPA Family does to recognize and reward the performance of teammates, including their spouses and families.
In addition to self-paced training, IPA provides ongoing classroom training and weekly webinars and webcasts. IPA is also very proud of its long-standing relationship and strategic business partnership with the Zig Ziglar Organization. Founded by the renowned Zig Ziglar, the Ziglar Company has been providing legendary motivation and performance training since 1970. The IPA Family tenaciously aligns with Ziglar's belief that "you can have everything in life you want if you will just help enough other people get what they want." IPA believes that real career significance begins when words are put into action.
Due to IPA's culture, continuous growth, state of the art technology and market expansions, they are currently accepting both Regional and Area Leadership application inquiries for existing and new markets. For more information about Independent Producers of America and the companies it represents, visit http://www.ipafamily.com.
About Independent Producers of America, LLC (IPA)
Independent Producers of America is a national marketing organization that distributes major medical insurance plans and other health insurance plans and consumer benefit membership programs across the nation. IPA's trained professional sales associates, referred to as the "IPA Family," provides information and a product portfolio that can meet the needs of most small business owners and self-employed individuals and families. Headquartered in Tampa, FL. IPA is accredited and has an excellent reputation with the Better Business Bureau (bbb.org) and is a member company of The IHC Group.
We encourage you to visit us on the following social media sites:
Facebook: Simply search Independent Producers of America, LLC (IPA), IPA Family, and IPA Wisdom.
YouTube: TheIPAFamily and IPAWisdom
Twitter: Subscribe to us @IPA_Family and @IPAWisdom
###