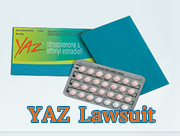 (PRWEB) October 28, 2011
A study published on October 25, 2011 by The British Medical Journal confirms previous findings that certain oral contraceptives containing newer types of progestogen hormones (drospirenone, desogestrel or gestodene), which are found in Yaz or Yasmin, at least double the risk of developing venous thromboembolism (VTE), compared to oral contraceptives with an older progestogen hormone (levonorgestrel), explains Attorney David Ennis.
Dr. Ojvind Lidegaard from the University of Copenhagen, led the large-scale study, which included more than 1.2 million non-pregnant, 15- to 49-year-old women in Denmark without a history of thrombotic disease. The study revealed that women on the pill with the older, levonorgestrel version were at three times the risk of VTE as those not on any hormonal contraception. Yet oral contraceptives containing desogestrel, gestodene, drospirenone, or cyproterone boosted the risk six to seven times over that of non-users. The researchers explain that newer forms of progesterone in combination hormonal contraceptives clearly carry much higher VTE risk than older forms.
Meanwhile, the U.S. Food and Drug Administration (FDA) is already studying the possible increased risk of blood clots with pills containing the drospirenone. The FDA says its preliminary results suggest a 1.5-fold increased risk compared with other hormonal contraceptives, to about 10 women in 10,000 from 6 women in 10,000. Due to this conflicting data, the FDA has scheduled a joint meeting of the Reproductive Health Drugs Advisory Committee and the Drug Safety and Risk Management Advisory Committee on December 8, 2011.
VTE is a blood clot that forms within a leg vein and may travel to the lungs, which can be deadly. Symptoms of blood clots include persistent leg pain, severe chest pain, or sudden shortness of breath.
Attorney David Ennis recommends that women who have taken drospirenone-containing birth control pills and experienced any of these symptoms should first immediately consult with their physician. Next, the patient should fill out a MedWatch Form at http://www.fda.gov. Lastly, patients should seek the opinion of an experienced lawyer to explore their legal rights.
Ennis & Ennis P.A. is offering free nationwide confidential consultations for patients who are taking or have taken drosepirenone-containing medications and suffer these symptoms by calling toll free 1-800-856-6405 or by going to http://www.ennislaw.com and completing an online case evaluation form.
Ennis & Ennis, P.A. is a nationwide law firm with offices in Ft. Lauderdale, Miami and Washington D.C. Ennis & Ennis, P.A. concentrates its practice in mass torts and represents individuals against pharmaceutical companies worldwide, as well as medical device makers.
Ennis & Ennis, P.A. has been representing clients individually since 1986 and has recovered over $100 million in settlements for its clients.
Ennis & Ennis, P.A. is also investigating cases involving, Accutane, Actos, Avandia, Fosamax, Paxil, Zoloft, Prozac, Depuy Hip Recall, Zimmer Hip Recall, Depakote, Reglan, SJS/Dilantin, Yaz, Yasmin, Ocella Birth Control Pills and Transvaginal Mesh Devices.
Remember the law limits the time in which you can file a claim, so don't wait to explore your legal rights. Call today toll free 1-800-856-6405 or visit http://www.ennislaw.com.
###