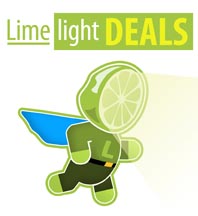 We're excited to give our mascot a clear identity, and love the notion of its fans deciding what that should be
Middletown, NY (PRWEB) October 27, 2011
LimelightDeals.com is asking users and visitors to name their mascot for a chance to win $1000
From now until November 1st, users can submit their name online to be considered for the mascot. On November 4th everyone is asked to come back and vote for the top 3-5 names that have been selected by a panel of Limelight Deals judges. Voting ends on November 16th and one of the voters will be randomly selected to win $100 in Lime Bucks!
Limelight Deals is similar to Groupon or LivingSocial: After signing up, participants receive offers by e-mail. Deals can be purchased online, and the customer takes the coupon to the retailer or restaurant where it is honored. A benefit that Limelight Deals has over those other, nationally-reaching programs is that the deals offered are truly local.
Each day's deal is offered by a local business users and readers know, featuring discounts of 50 percent to 90 percent. There is a limited time or number of days that deals will be active. When enough participants purchase the deal that day, the deal will "tip" or become active
"We're excited to give our mascot a clear identity, and love the notion of its fans deciding what that should be," said Sean Polay, director od deals and mobile for Dow Jones Local Media Group. "Limelight Deals is all about businesses and shoppers creating a local marketplace to try new things, save money and have fun doing it. Helping us name the mascot is one way to make participation in the product a little more fun."
Submissions will be restricted to one name per person and voting will be restricted to one vote per day per person. Entry to the contest, which is free, must be done using the upload tool on the contest page. For additional rules visit the contest website.
About Dow Jones Local Media Group
Dow Jones Local Media Group (http://www.dowjoneslmg.com), operates eight community media groups around the country that collectively are comprised of 8 daily and 15 weekly newspapers, several lifestyle magazines and other niche publications, and a multitude of affiliated Web sites in seven states.
About Dow Jones & Company
Dow Jones & Company (http://www.dowjones.com) is a News Corporation company (http://www.newscorp.com) and a leading provider of global news and business information. Its principal products include The Wall Street Journal, Dow Jones Newswires, Dow Jones Factiva, Barron's and MarketWatch. Dow Jones also provides news content to television and radio stations.
###