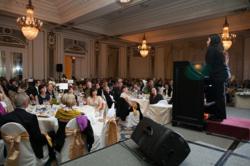 Senator Leland Yee and Assemblywoman Fiona Ma, San Francisco Mayoral Candidates, presented Certificates of Recognition at the event.
San Francisco, CA (PRWEB) October 31, 2011
Immaculate Conception Academy (ICA Cristo Rey), a Catholic secondary school in San Francisco, recently held their 4th annual gala "Education That Works," at the Palace Hotel. 340 registered for the event, a 36% increase from last year.
Senator Leland Yee, representing the 8th District in the California State Legislature, and Assemblywoman Fiona Ma, Speaker Pro Tempore representing the 12th District in the California State Assembly, both currently running for San Francisco Mayor, had Certificates of Recognition presented at the event. The certificates recognized ICA's exemplary leadership and dedication to the education of San Francisco's young women.
In 2009, ICA joined the innovative Cristo Rey Network, which combines college preparatory education and a work study program for students from families of limited financial means. The 128-year-old school is located in the Mission District.
Ron Longinotti of KPIX spoke at the "Education That Works" gala about the importance of education in society today, and Diana Guardado, Senior at ICA, highlighted the benefits of the Cristo Rey work study program. During her 3.5 years at ICA, Diana has worked at Wells Fargo, Heffernan Insurance Brokers, and KPIX. She will be the first in her family to attend college.
A short video was previewed showing interviews with corporate sponsors of the school's Corporate Work Study Program. Several corporate sponsors attended the event including Shook, Hardy & Bacon L.L.P, Hanson Bridgett L.L.P., Keenan, and Orrick, Herrington & Sutcliffe L.L.P.
Many law firms, including Jones Day, are proponents and sponsors of the ICA Cristo Rey business model, hiring students to fill entry level positions at their firms.
Foundation representatives from The O'Shea Foundation, Koret Foundation, Dominican Sisters of San Rafael, The Robert and Helen Odell Fund & The Carl Gellert and Celia Berta Gellert Foundation attended the event as well.
The event included a cocktail hour, live auction, and raffle. To learn more about ICA or to attend the event next year, please contact Katie Mayberry at (415) 824 – 2052 x 40 or kmayberry(at)icacademy(dot)org.
About ICA
Immaculate Conception Academy, a Catholic secondary school, prepares young women for college and a life of faith, integrity and service. As a Cristo Rey school in the Dominican tradition, they are committed to providing both an excellent education and meaningful corporate work study experiences to students of limited financial resources. Learn more about ICA at http://www.icacademy.org. Learn more about Cristo Rey at http://www.cristoreynetwork.org.
# # #