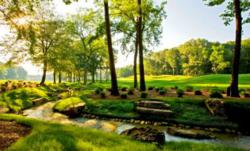 Environmental sustainability at Mirimichi is about more than what we can do at our golf course.
Millington, TN (PRWEB) October 28, 2011
Singer song writer Justin Timberlake added award-winning environmental golf course to his list of accomplishments. He took on the construction of the Mirimichi golf course in Tennessee with hopes of greatly reducing it's carbon footprint with innovative plans to run the course as environmentally friendly as possible. After accepting the EMA (Environmental Media Association) Future award for his efforts he commented, "We made a commitment to building a sustainable model for a golf course and we honor the land and the ecosystem that Mirimichi shares with nature."
Justin Timberlake's Mirimichi is the first golf course in the whole of America, and one of just ten worldwide, to receive GEO (Golf Environment Organization) Certified Status. This prestigious honor was just one of many awarded to Mirimichi for constructing a totally environmental compliant golf course. The GEO's report stated, "All employee areas feature comprehensive recycling stations... Mirimichi staff have worked hard to select contractors that collect and manage their waste to the highest standards."
The design and installation of Miramichi's cutting edge, closed loop equipment wash station came from ESD Waste2Water Inc., a Florida based waste water recycling company. Miramichi's golf course wash system is unique because it fully treats and recycles 100% of the wash water used in the golf course's equipment washing station. This system includes a golf cart wash pad- which captures wash water run off from equipment washing, preventing it from contaminating the groundwater and surrounding soil while separating solids (like grass and debris) from the water. The golf course equipment wash pad also uses a 4 hose wash water system that can clean with a powerful force using the recycled water.
Upon accepting the 2011 Governor's Environmental Sustainability Award Justin commented, "Environmental sustainability at Mirimichi is about more than what we can do at our golf course. It is about taking a leadership role and encouraging other golf courses, and organizations of all kinds around the world to emulate our commitment toward making a positive impact on the world we live in." ESD Waste2Water, Inc is proud to have taken part in this ground breaking venture of creating an award winning environmental golf course. Justin Timberlake's Mirimichi has truly set a positive example for all other golf courses around the world to follow. Visit Waste2Water for more information about their services.
###