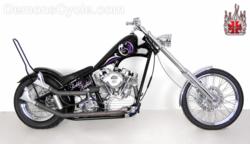 Since Demon's Cycle and Rabbit Habbit have a similar cool young hip cliental, this was a great
opportunity for both company to show their appreciation to all our customers
Miami, FL (PRWEB) October 27, 2011
Demon's Cycle Inc., a custom motorcycle builder and custom motorcycle parts supplier, has built a replica of a custom 1957 panhead chopper with an S&S motor for Rabbit Habbit as part of a promotion for Rabbit Habbit's new non alcoholic aphrodisiac drink.
The bike, which is an old school high end panhead chopper, is now Rabbit Habbit's promotional motorcycle and is suitably adorned with Rabbit Habbit's company logos and advertising. Rabbit Habbit plan to use the bike as part of a series of events in Miami over the Halloween weekend.
For those who want to join Rabbit Habbit, they will be at the following Opium Group clubs over the weekend:

Friday 28 October: Club Set
Saturday 29 October: Club Mansion
Sunday 30 October: Club Mokai
Monday 31 October: Club Set
"Since Demon's Cycle and Rabbit Habbit have a similar cool young hip cliental, this was a great opportunity for both company to show their appreciation to all our customers." said Thomas Steinbacher, owner of Demon's Cycle. "It was real fun building the '57 panhead chopper, it was a classic bike and it was a pleasure to re-create it. "
The events with Demon's panhead chopper are designed to promote Rabbit Habbit's new energy drink that stands out because of its aphrodisiac effects.
About Demon's Cycle
Demon's Cycle is an multi-million dollar international custom motorcycle wholesale company. Based in Pompano Beach, South Florida, Demon's Cycle was started more than seventeen years ago by Tom Steinbacher and has a reputation as a pioneer of radical motorcycle designs, euro style bikes and custom chopper concepts. Demon's Cycle is an international custom motorcycle wholesale company. As well as building custom motorcycles and selling rolling chassis, Demon's Cycle specialize in the sale of custom parts for Harley-Davidson motorcycles. They offer a wide range of parts including handlebars, hand controls and turn signals.
Contact
Demon's Cycle Inc.
1407 SW 10th Ave.
Pompano Beach, FL 33069
Telephone: 954-943-0000
Fax: 954-943-0377
Web: http://www.demonscycle.com
###