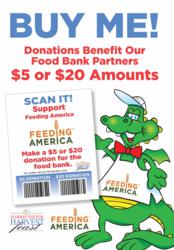 Every scan card purchased during the Harvest Feast campaign will help Harris Teeters Feeding America partners feed one of our hungry neighbors in need
Charlotte, NC (PRWEB) October 27, 2011
Harris Teeter and its food bank partners have been fighting hunger in our communities for decades. Harris Teeter, in its ninth year hosting Harvest Feast which provides assistance to community members in need, is once again offering its generous shoppers the opportunity to get involved. Wednesday, Oct. 26 – Tuesday, Nov. 29, Harris Teeter customers can donate money or nonperishable to their local food bank through Harris Teeter.
Harris Teeter launched Harvest Feast in 2003. Since that time, the company has raised nearly one million dollars to support its local food bank partners, as well as donated hundreds of thousands of pounds of nonperishable food items. The company owes the success of the Harvest Feast campaign to its loyal shoppers and hopes for continued participation again this year.
"The Harris Teeter Harvest Feast Campaign is more important than ever this year," said Kay Carter, executive director serving Second Harvest Food Bank of Metrolina. "The number of people in poverty in our region now stands at over 415,000 and sadly 185,000 of these people are children and seniors. Every scan card purchased during the Harvest Feast campaign will help Harris Teeters Feeding America partners feed one of our hungry neighbors in need."
Now more than ever, community members including hardworking adults as well as children and seniors need help putting food on the table. Shoppers can join Harris Teeter in its fight against hunger by purchasing either $5 or $20 donation cards or by donating nonperishable products in the collection bins in the lobby.
All monies and product donated will stay in the local community in which it was collected.
The company would also like to thank its media partners WBTV, WRAL, WILM, WGHP, WCSC, Cox Cable and Comcast Cable for assisting with promotion of the food drive and donation card campaign.
About Harris Teeter
Harris Teeter Inc. with headquarters in Matthews, N.C., is a subsidiary of Ruddick Corporation (NYSE:RDK), a Fortune 500 company. Harris Teeter is the 24th largest supermarket in the U.S. with 2010 sales of $4.1 billion. The grocery store chain employs over 23,000 associates and has 206 stores in North and South Carolina, Virginia, Georgia, Tennessee, Maryland, Delaware, Florida and the District of Columbia.
###