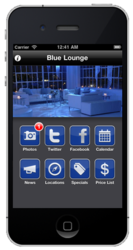 A mobile startup, LoyalApps Corp, is making it easy to build a mobile app and engage customers quickly and with little risk
Boca Raton, FL (PRWEB) October 31, 2011
It is no secret that smart phones and apps are rapidly growing in popularity among consumers. Many companies (retail, restaurants, etc.) are starting to release apps targeting their customers. However, building an app can be costly and time consuming. A mobile startup, LoyalApps Corp, is making it easy to build a mobile app and engage customers quickly and with little risk.
Building a custom branded mobile app is expensive, and most small to medium sized businesses simply don't have the budget. It can cost $10k to $50k, and take months to develop. This is what makes LoyalApps so enticing- an app can be built and managed all from a website without developers ever getting involved. LoyalApps has taken the risk out of bringing a business into the mobile marketplace.
With an app from LoyalApps, businesses can interact with their customers in exciting ways. Modules that add functionality to the app can be chosen, such as detailed location information with maps that give customers directions from where they are. It can host a calendar of events, news, specials, pricing, and many other features.
Business owners can also communicate with their customers through push notifications, which work similar to a text message, displaying a message on the customer's device. Additionally, with a built-in customer feedback form and statistics, businesses can insure they are getting the most out of their app.
Pricing and Availability
LoyalApps uses a tiered pricing structure starting at $49 per month and is based on the number of unique active users each month. Signup is free, and an app can be built and tested before purchasing. Once purchased, LoyalApps submits the app for approval to the App Store. Approval typically takes about a week.
For more information visit http://www.loyalapps.com
About LoyalApps Corp
LoyalApps provides a quick and cost effective way to build an app for businesses of all sizes. It offers features that allow companies to communicate with their customers, keep them informed on new specials or events, and provide meaningful and relevant information about their business.
Contact Information
LoyalApps can be contacted through their help desk system at support.loyalapps.com
###