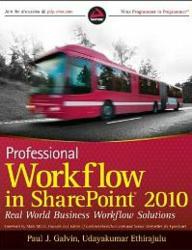 New York, NY (PRWEB) October 28, 2011
Resource Search Company, Inc. (RSC Solutions) a leader in IT staff augmentation and professional services, is proud to announce that Udayakumar Ethirajulu, Microsoft MVP and RSC Solutions VP & Chief Architect - Microsoft Applications, has co-authored a new book "Professional Workflow in SharePoint 2010: Real World Business Workflow Solutions".
Written by two SharePoint MVPs, this comprehensive guide shows you step by step how to build solutions to real-world problems using SharePoint 2010 and leverage the exciting new workflow capabilities Microsoft introduced in the platform. The authors dive into a variety of common challenges that companies face every day and explore them in great detail—while also offering specific instructions and screenshots—so you can confidently know when and how to use SharePoint Designer as well as Visual Studio®.
"Uday is a tremendous asset to the RSC Solutions team", noted Mark Arzoomanian Chairman and CEO at Resource Search Company, Inc. "With over 11 years of experience in and around technology, Uday is a true guru and brings his know-how to develop strategies, mitigate risk, and incorporate best practices for all of our clients and prospects."
About the Author
Mr. Ethirajulu is a Microsoft SharePoint MVP, frequent blogger, and public speaker at SharePoint events. Uday works at RSC Solutions as Vice President & Chief Architect in New York.
About Resource Search Company, Inc.
Resource Search Company, Inc. (RSC Solutions), founded in New York, NY in 1997, covers a broad spectrum of IT functions including systems integration, staff augmentation, business intelligence, business process re-engineering, and project management. With locations across the country, and over 500 employees, RSC enables mid-market enterprises, Fortune 1000 companies, and government agencies to drive business and improve performance by implementing advanced technologies—carried out by proven, cross-industry experts that are dedicated to providing a higher level of service than our competition. http://www.rscsolutions.com
###