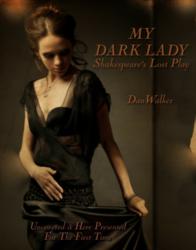 Oscar-winning director, Lynne Littman, describes Walker's powerful, fast-paced novel as, "'Shakespeare in Love' meets 'Braveheart' with a generous sprinkling of 'Amadeus' and 'Anonymous'."
Hollywood, CA (PRWEB) October 27, 2011
"My Dark Lady: Shakespeare's Lost Play" by Dan Walker opens in Queen Elizabeth's glittering Court. The year is 1580. Edward de Vere, Earl of Oxford, has just lost his heart to the Queen's newest maid of honor. Their forbidden love inspires the greatest writer ever born to compose numerous passionate and extremely personal sonnets.
Oxford also pens a revealing five-hour play entitled, "My Dark Lady" only to have this tempestuous love story ripped from history's pages, creating literature's greatest mystery. Namely, just who was the real author of the body of work attributed to William Shakespeare?
Author Dan Walker's inspiration for his richly detailed novel began with a simple question: Who knew more about the man who was Shakespeare than the woman he loved? And so he decided to bring the Dark Lady to life as his narrator. By presenting the authorship mystery from this incredible woman's perspective, Walker has given the whole brain-teasing riddle a new and wonderfully entertaining twist.
Like Shakespeare himself, the book's author was educated at a grammar school in Warwickshire. This gave him an early and very personal perspective on the authorship issue. Surveying the vast wealth of learning and wisdom contained in these peerless plays, he concluded: "If I wasn't taught more than a fraction of this information in 1974, it's unlikely that Shakespeare was taught any of it four hundred years earlier in 1574."
Although "My Dark Lady" is a work of fiction, it is based on years of extensive travel and research and is historically accurate in most details. Because of this, Walker contends that his novel's answer to the authorship mystery is coherent and plausible, unlike the widely debunked "Prince Tudor" theory presented in Emmerich's film.
The author recently attended a pre-release screening of "Anonymous" at Sony Studios and had an opportunity to congratulate director Roland Emmerich on his highly entertaining contribution to the authorship debate. "Although I do not believe Emmerich's hypothesis that the Virgin Queen secretly gave birth," says Walker, "I admire him for producing a stirring movie that will inspire audiences the world over to delve into the fascinating question of just who did write these wonderful plays."
Oscar-winning director, Lynne Littman, describes Walker's powerful, fast-paced novel as, "'Shakespeare in Love' meets 'Braveheart' with a generous sprinkling of 'Amadeus' and 'Anonymous'." This intellectual thriller takes readers on an unforgettable journey through Renaissance England. By focusing on the Dark Lady's forbidden romance with Oxford, Dan Walker has produced a compelling and surprisingly satisfying solution to the authorship mystery.
"My Dark Lady: Shakespeare's Lost Play", published in ebook format by eBookIt.com, is available through several popular online retailers, including Amazon.com, BN.com and Apple's iBookstore. Author Dan Walker is available for interviews. Book reviewers and media outlets may request a review copy of the ebook by emailing info(at)mydarklady(dot)com.
About the Author
Dan Walker is the pseudonym of a longtime member of the Shakespeare Authorship Roundtable in Beverly Hills. Since graduating from Oxford University with a Masters degree, he has worked as a writer, producer, book editor and ghostwriter.
All these roles have supported Dan's early passion for Shakespeare. He has, for example, produced videos for the Roundtable featuring such experts as film critic, Charles Champlin and Charles Beauclerk, a descendant of Edward de Vere, 17th Earl of Oxford, debating the authorship question.
CONTACT:
Daniel Gilbertson
310.663.2806
info(at)mydarklady(dot)com
http://www.mydarklady.com
###