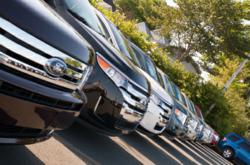 It's the most we've had in stock since 2003.
Atlanta, GA (PRWEB) October 28, 2011
Sandy Springs Ford in Atlanta has revved up its inventory of Ford vehicles in anticipation of the holidays and is currently overstocked with $10 million worth of new Ford inventory to cater to the increased demand from car buyers. "It's the most we've had in stock since 2003," says Sonal Patel. Customers who wish to buy a new Ford Atlanta or used Ford Atlanta or people who wish to trade old cars in now will have access to an exhaustive inventory of vehicles from the Ford stable, courtesy of Sandy Springs Ford. For instance, there are 20 new 2012 Ford Explorers in a variety of colors, and the list of cars and trucks just continues. Furthermore, a recently launched web portal enables potential buyers to check out the models of choice, receive quotes, and apply for a loan, all online from the comfort of home.
Every year demand for new and pre-owned cars skyrocket during the holiday season. Dealers are busiest during this frantic period, however, very few are prepared to manage the increased demand and satisfy a variety of customers. Keeping this in mind, Sandy Springs Ford has added hundreds of new and used cars Atlanta to its already magnificent and booming inventory so that no customer returns empty handed from this remarkable and capable dealer. Better yet, if you buy a Mustang V6/GT or a truck, you can receive 0% interest for 60 months.
Since the economic conditions are not that favorable, rather than selecting a brand new truck, customers are increasingly becoming inclined towards used trucks Atlanta. This has spurred the demand for pre-owned vehicles in the automobile market. Brian Logan, the General Manager of Sandy Springs Ford says, "We have just finished cataloging all our inventoried vehicles and uploaded the data on our brand new website so that buyers can decide beforehand which car they are going to buy or trade this season." All the vehicles available are screened meticulously before they are parked on the lot for sale and, of course, posted on Sandy Springs' website. Thus, every vehicle purchased from this dedicated dealership comes laden with trust, something Sandy Springs Ford has garnered over the years. And Logan says this with pride. He knows firsthand that trust is difficult to earn but easy to shatter.
Sandy Springs Ford is also a one-stop-shop for genuine spare parts for all the models of Ford vehicles. The dealer procures all its parts from OEM in large quantities. This is precisely the reason why Sandy Springs Ford is able to offer intricate and specific Ford parts at rock-bottom prices to all its deserving customers. Buyers who wish to trade in a used vehicle to Sandy Springs are in for a surprise. The website allows customers to receive quotes for used vehicles online. All the customer needs to do is visit the particular section of the website, enter the relevant data, and receive an estimate for the trade-in – saving precious time and fuel.
Customers can also receive quotes for the vehicle of choice online just by entering the model, price and mileage range, and manufacturing year. It does not matter if this is a used Toyota Atlanta or a used Nissan Atlanta; the range of vehicles offered at this marvelous dealership is impressive. If the buyer is looking for any particular model and it is not available in the inventory at the moment, the buyer can just fill out a form online and the dealer will locate that particular vehicle in a short time span. Apart from these fabulous services, potential buyers can also apply for a car loan online.
###