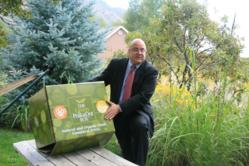 "The Green PolkaDot Box believes in sharing the green message with American families who want to eat cleaner, healthier food," said Rod A. Smith. "We also honor cities who use natural clean resources like the wind to power their community."
Spanish Fork Canyon, Utah (PRWEB) October 29, 2011
The Green PolkaDot Box™ founder Rod A. Smith is pleased to announce that 98% of their identified launch brands and products are now in the Green PolkaDot Box Organic Products Warehouse awaiting their opening for orders by members on November 1st. The Green Polka Dot Box is an Online Membership Buying Collective for Organic and Natural, Non-GMO Foods and Products. http://www.greenpolkadotbox.com/rod.
Clean, natural, Non-GMO food products are being housed in the Green PolkaDot Box Organic and Non-GMO products Warehouse, located next to the wind turbine mills which are located in what is aptly titled Green City in Spanish Fork Canyon, Utah. Spanish canyon has the richest source of wind in Utah These 9 windmills 1.5-megawatt turbines produce 23 million watts of power, enough electricity to power 600 homes each or one out of five homes in Utah County. The Green PolkaDot Box (GPDB) will store 1500 non-perishable types of organic and non-GMO products for the online buying collective members in the new warehouse located adjacent to these green energy windmills.
GPDB founder Rod A. Smith says new clean food products are being added to the GPDB organic products warehouse every day and later the GPDB will be offering frozen goods, and eventually fresh organic produce from regional warehouses. Rod says he finds it appropriate that their first organic products warehouse is located next to Green City and the giant clean energy wind turbines.
"The Green PolkaDot Box believes in sharing the green message with American families who want to eat cleaner, healthier food," said Rod A. Smith. "We also honor cities who care about the environment enough to use natural clean resources like the wind to power their community."
The GPDB objective is to educate consumers about the links between Clean Food and Increased Health, make Organic Food affordable and eliminate the Organic Deserts for those who do not have easy or affordable access to clean and organic products. To do this GPDB is cooperating with some of the nation's leading consumer associations and Clean Food advocates. The Organic Consumers Association, the Hippocrates Health Institute, the Natural Solutions Foundation, Citizens for Health, the National Health and Wellness Club, Natural News, Mission Possible and many other institutions focused on health are involved in promoting membership in The Green PolkaDot Box.
The Green PolkaDot Box™ is an online membership club that provides the lowest pricing on organic, natural and other healthy food products through partnerships that garner the best pricing from manufacturers and growers. A family business, founded by Rod A. Smith, the Green PolkaDot Box does not carry any products that contain harmful ingredients, including foods that are known to be genetically modified. The GPDB annual membership includes both a "club" or "reward" membership; the later offering a referral rewards program to help consumers earn their healthy food purchases. Both membership types feature a FREE delivery options. Learn how the GPDB referral rewards program helps consumers earn their healthy food purchases. http://www.greenpolkadotbox.com/rod.
###