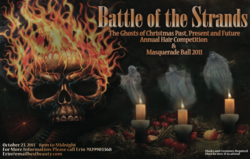 Inspiration, passion, innovation and the most creativity I've witnessed at a single event!
Las Vegas, Nevada (PRWEB) October 27, 2011
The Kim Vo Salon at the Mirage Casino received the award for Top Salon of Las Vegas at Battle of the Strands this past Sunday, October 23, 2011. Additional awards were given including Best in Hair, Best in Make-up, and People's Choice. The Salon at Trump featuring Eli Sabat received best in hair for their extravagant take on the night's theme. The Kim Vo Salon at the Mirage won Best in Make up as well as Top Salon. The fan voted award for People's Choice was awarded to the Walk in Salon of Robert Cromeans at Mandalay Bay. Battle of the Strands was hosted by Best Beauty Essentials to promote the Las Vegas Beauty Industry as the Mecca of beauty attraction and is a thriving salon industry with talented and respected artists.
"I am very honored to be recognized with this award," said Kim Vo. "We all had such a blast at this event, and are looking forward to more to come in the future."
The Battle of the Strands (http://www.battleofthestrands.com) competition and masquerade ball was held at the Spanish Mansion, a 10,000 square foot estate in a 2.5 acre enclosed property 1.5 miles from the strip. From 8:00 P.M. until midnight, participants competed in a hair, make-up, costume, props, and execution impact competition. The five salons competing were given a theme and asked to portray it onto their three models. This year's theme was "Ghosts of Christmas Past, Present, and Future." Four respected industry judges picked a winner based on a variety of categories and the winner received the award for Top Salon of Las Vegas 2011.
Prior to the show, Terry Jicinsky from the Las Vegas Convention and Visitors Authority spoke about the powerful potential of a thriving salon industry in Vegas. "Las Vegas is, and always has been, the 'Entertainment Capital of the World,'" he said. "The salon and fashion industries play a vital role in presenting our entertainers, hospitality workers and tourism industry professional as the world's best."
"I am genuinely one with you in your mission to make the rest of the country know what your salons are stylists are capable of as you raise the bar of the beauty industry," said celebrity stylist Nick Arrojo from Izunami hair tools in a special video message. "I share your passions towards creative excellence and its expression through Battle of the Strands. I congratulate [all of you] for coming together as one voice that will not only bring the Las Vegas salon industry forward, but will serve as a good example for the rest of the country."
Before the salons unveiled their models for the competition, attendees were entertained by a fashion show from LVMH Piazza SEMPIONE and a dance performance by VZ Dance Studios.
The salons portrayed the themes creatively and expertly, with hair styled into everything from wreaths to sky-high towers of braids. The makeup and costumes were equally elaborate, and the overall effect with music and props was truly dramatic. The winning Kim Vo Salon featured a ghostly white Ghost of Christmas Past, a vine-covered Ghost of Christmas Present, writhing on the floor with a giant boa constrictor, and an eerie Ghost of Christmas Future with a gaping hole in place of a right eye. The audience interacted via social media and texted in their vote during the event. Text message votes were tallied to determine the People's Choice recipient.
The following four stylists judged the competition: LaVey Ortiz, a Las Vegas celebrity make-up artist who is a favorite of celebrities including the Kardashians, the Hiltons sisters, Molly Sims, Rosario Dawson, and more; Kari Kisch, a make-up artist and stylist who has worked on celebrities including Alicia Keys, Michelle Obama, and Jennifer Aniston, as well as numerous magazine photo shoots; Lyle Malapit, Las Vegas Salon Owner, and hairstylist with almost a decade of experience; and Jenniveve McPherson, a costume designer who has designed for Vegas shows and owner of the production company and design team The Beverly Project, which has designed red carpet costumes for celebrities such as "The Hills" star Audrina Patridge and Jersey Shore's Nicole "Snooki" Polizzi.
"Inspiration, passion, innovation and the most creativity I've witnessed at a single event," said Kisch. "I am still in awe at all the amazing contenders at Battle of the Strands! I can't wait for the next!"
"I would like to congratulate the five salons that put their unique talents and creativity to be on display today," said Rossi Ralenkotter, President and CEO of Las Vegas Convention and Visitor Authority after the show commenced. "Congratulations to the winners, and finally, congratulations to Best Beauty Essentials for putting on a great event."
VIP and celebrity guests were escorted to and from the event in Lamborghini and Audi luxury cars.
"Everything about this event was wonderful," said celebrity guest Dr. Robert Rey, "from my dramatic arrival in Lamborghini's brands new supercar, the Aventador, to the spectacular show, to the delightful company I had the pleasure of enjoying the night with."
"What an awesome night!" raved reality TV star Frenchy from Rock of Love. "Whenever I need my hair or makeup done while I am in town, I know that I am in good hands with the salons of Las Vegas."
"One thing that was obvious throughout the entire evening was everyone's obsession with perfection," said MasterChef runner-up Adrien Nieto. "It really blew my mind. After this amazing event, I have a new profound respect for everyone in this industry."
As the night progressed, guests enjoyed delicious food from Wild Truffles, a high end Las Vegas caterer lead by prominent chef Eva Paulussen.
The participating salons were The Spa at Trump featuring Eli Sabat, Walk in Salon by Robert Cromeans at Mandalay Bay, Kim Vo Salon at the Mirage (winner),
Canyon Ranch Salon at the Palazzo, and Cariloe Concept Salon.
Sponsors for this event included Izunami Hair Tools, Bhumi Earth make up brushes, Lamborghini of Las Vegas, Audi Henderson, LVMH Sponsored Piazza Sempione, Best Beauty Products Today, Samantha Rose Jewelry, and more.
###