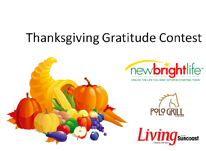 What Are You Most Grateful For?
Lakewood Ranch, FL (PRWEB) October 27, 2011
Thanksgiving 2011. Three local Suncoast businesses ask contest participants to answer three important questions:
1. "What Are You Most Grateful For?"
2. "How Do You Know You Are Acting With Gratitude?"
3. "How Do Other People Know When You Are Feeling Grateful?"
Contest submissions can be made at newbrightlife.com/thanksgivingcontest. There will be two contest winners and two prizes. Prize #1 (a $100 Polo Grill and Bar Gift Certificate) will be awarded to the winner who lives within 30 miles of the Polo Grill & Bar (Lakewood Ranch, FL). Prize #2 (a check for $100) will be awarded to a winner who lives elsewhere in the U.S. Each winner will receive mention in an upcoming "View From Here" magazine column, written by George Schofield. Each winner will be congratulated in a future edition of Living On The Suncoast magazine.
The contest begins at 1 am Tuesday, November 1, 2011 and ends midnight Monday, November 21, 2011. Winners will be announced on Thanksgiving Day. All entries become property of New Bright Life, LLC.
For more information, visit http://newbrightlife.com/thanksgivingcontest or call Benjamin Gioia at 347-870-6502
About New Bright Life
New Bright Life, LLC (newbrightlife.com) helps people over 50 create their best possible lives in a rapidly changing world by focusing on successful aging, quality of life, great relationships, whole life balance, and personal adaptability. Its founder is George H. Schofield, PhD, an expert on successful aging, an author & speaker, magazine columnist, entrepreneur, and consultant. He is a thought leader in aging and employment, intersecting realities in our changing world.
About Living On The Suncoast Magazine
Living On The Suncoast™ Magazine is a locally owned insider's guide to Florida's Suncoast lifestyles and more. The magazine explores diverse aspects of food, drink, shopping, style, business, home and garden, green living, recreation, health, what's happening, who's who, and issues of local importance. Living On The Suncoast™ is mailed free to homes and communities in Sarasota and Manatee Counties The audited circulation (the largest in Manatee and Sarasota Counties) is 30,600 copies with more than 83,000 print-edition readers and thousands of monthly website visitors at livingonthesuncoast.com.
About Polo Grill
Serving American cuisine with a global soul, Polo Grill and Bar (pologrillandbar.com) pairs imaginative food and wine with superb hospitality, comfortable surroundings and exceptional value. Created by restaurateurs Tommy and Jaymie Klauber, the Polo Grill offers a rich ambiance, superb food, and outstanding personal service. The Polo Grill's commitment to sourcing local sustainable and organic foods is unsurpassed in the area. The Polo Grill offers an acclaimed wine list and the lounge at the Polo Grill and Bar is always hopping with guests enjoying happy hour, live entertainment, fabulous drinks & spirits, great conversation, dancing, or just a light bite.
Contact:
Benjamin Gioia
Vice President
New Bright Life, LLC
347-870-6502
ben(at)newbrightlife(dot)com
http://newbrightlife.com
# # #