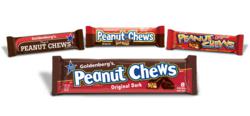 We couldn't be more thrilled to re-introduce this iconic candy
Philadelphia, PA (PRWEB) October 28, 2011
The "GOLDENBERG'S®" brand is back on Philadelphia's favorite hometown candy, PEANUT CHEWS®. Goldenberg Candy Company has introduced their new product label putting the family name back on the front of the package, along with the traditional rich red and chocolatey brown that had been part of the GOLDENBERG'S® wrapper design for decades. The new packaging is set to hit the shelves in November, which emphasizes the brand's Philadelphia heritage, where it has been made since 1917. There is even a creative use of the UPC bar code on the new packaging, which reflects the Philadelphia city skyline. The aim of this new package design and the accompanying "Chewin' It Old School"™ promotional campaign is to pay homage to its historic Philadelphia roots.
"We couldn't be more thrilled to re-introduce this iconic candy to our long-time brand enthusiasts, as well as share our classic taste with a whole new generation of PEANUT CHEWS® fans!", says Bob Zender, Marketing Manager at Goldenberg Candy Company. "Philadelphians have enjoyed GOLDENBERG'S® since 1917, and we have ambitious plans to reflect the candy's delicious taste and regional heritage with the support that it deserves."
Providing the northeast with the chewy, chocolatey, peanut-packed bite-sized candies, GOLDENBERG'S® PEANUT CHEWS® has become a Philadelphia favorite for all ages. Along with the overall retro color scheme, the new design demonstrates a commitment to tradition with a more mature brand logo, a "Since 1917" star, a more realistic candy illustration, and a clearer identification of the number of sharable pieces in each package. The relaunch will be supported by an aggressive advertising campaign including TV, Billboards and Transit Signs from January through June which will highlight the new design and the tasty legacy of GOLDENBERG'S® PEANUT CHEWS®.
Goldenberg Candy Company is a division of Just Born, Inc. who purchased the company back in 2003, and has continued the delicious candy making tradition started by the Goldenberg family almost a century ago. GOLDENBERG'S® PEANUT CHEWS® Brand Candies are still manufactured in Philadelphia, USA, as they have been since 1917. The candy is kosher and gluten-free, and the Original Dark flavor is vegan-friendly. For more information, please visit http://www.peanutchews.com or on Facebook at http://www.facebook.com/PeanutChewsCandy.
###