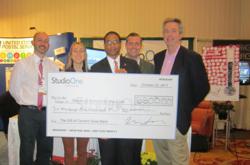 New York, NY (PRWEB) October 28, 2011
Studio One Networks presented a check to Larry Lundy, Director of New Business Development, Susan G. Komen for the Cure, at Studio One Networks' booth on the final day of the ANA Annual Masters of Marketing Conference in Phoenix, Arizona. The Studio One Networks donation, in the amount of $7,450, came from their Content Challenge for Charity, a call to all ANA conference participants. Studio One committed a $50 donation to one of three non-profit humanitarian organizations for each attendee to its booth during the conference. 149 visitors joined Studio One in supporting Komen's efforts in fighting breast cancer.
"Studio One is proud to make this gift to Susan G. Komen for the Cure during National Breast Cancer Awareness Month. We believe in the Komen mission of 'Less Talk, More Action,' which is why we issued the Content Challenge for Charity at this years' ANA Masters of Marketing Conference," commented Andrew Susman, CEO of Studio One Networks. "We were inspired by all who visited our booth, shared their stories and expressed support for Komen. We believe content is more than just content. Quality content can connect, inspire, educate, empower and save lives."
Noted Lundy, "This is a tremendous showing from ANA members and we are very grateful for the support of partners and individual donors who are helping us to make progress against the leading cancer in women and the leading cause of cancer death in women worldwide. Our thanks to the ANA and all who are helping to support our research and programs that help women and men facing breast cancer."
In addition to Susan G. Komen for the Cure, Studio One Networks donated $2,550 to CFY, a national education nonprofit that helps low-income communities harness the power of digital learning, and another $1,150 to the International Rescue Committee, an international humanitarian organization that advocates for and provides material support for victims of war and disaster. In total, Studio One Networks raised $11,150.
About Susan G. Komen Cause for the Cure
Susan G. Komen for the Cure® is the global leader of the breast cancer movement. Last year it is estimated that over 1.6 million new cases of breast cancer occurred among women. As the world's largest grassroots network of breast cancer survivors and activists, works together to save lives, empower people, ensure quality care for all and energize science to find the cures. Susan G. Komen Cause for the Cure has become the largest source of nonprofit funds dedicated to the fight against breast cancer in the world. http://ww5.komen.org/
About Studio One Networks
Established in 1998, Studio One Networks pioneered the discipline of Internet content syndication for megabrands and major media partners. Today, Studio One is the oldest, largest and most successful firm in the field. The company has amassed a loyal base of sponsors and programs, including P&G (The Dog Daily), Symantec (Your Security Resource) and Bridgestone USA (Driving Today). Every day, Studio One reaches more than 200 million viewers globally through over 2,500 syndication partners in 17 languages. studioonenetworks.com
Media Contact:
Julian Soler
Director of Marketing
Studio One Networks
212-213-2332 x206
julian(dot)soler(at)studioonenetworks(dot)com
###