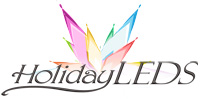 We are happy to offer this recycling service to customers who are looking to save energy and stretch their dollar.
Jackson, MI (PRWEB) October 31, 2011
Thanks to an innovative recycling program offered by HolidayLEDs.com, disposing of those lights safely has never been easier. The program also allows families to save money while upgrading to energy-efficient and longer-lasting LED lights. Consumers can mail old incandescent holiday lights to the company, and receive a coupon for 25 percent off their next order with one of the most comprehensive online suppliers of LED Christmas lights.
"We are happy to offer this recycling service to customers who are looking to save energy and stretch their dollar," said Philip C. Curtis, President of HolidayLEDs.com. "We also think it's the right thing to do. When you offer a better product that makes older technologies obsolete, you should be part of the solution to dispose of them responsibly."
LED holiday lights, which typically use 1/10 of the energy as older incandescents, now come in a wide variety of styles and all colors. The bulbs are virtually indestructible and are designed to last 100 times longer than traditional lights. They're cool to the touch, making them a safe choice for dry trees, shrubs and other greenery. And customers no longer have to worry about the whole string going bad when one bulb burns out.
To participate in the Christmas light recycling program, package old holiday lights and include a clearly-printed name and email address to receive a coupon. Send it to the following address (express or special handling is not necessary):
HolidHolidayLEDs.com Recycling Program
C/O Classic Turning, Inc.
4905 James McDivitt Street
Jackson, MI 49201-8958
To reduce the costs and environmental impacts of shipping, please:
1. Use cardboard boxes or other packaging that can easily be recycled.
2. Coordinate with friends, neighbors, co-workers, social groups, church groups, or other organizations to collect lights and send in one bulk shipment.
3. Include only the lights sets and compact them into the smallest space possible. Please leave out packing material, retail boxes, or anything used to wind up or store the lights.
HolidayLEDs.com employees will remove the lights and recycle the box. Once a substantial number of sets are collected, they are taken to a 3rd party recycling facility located in Jackson, MI. The recycling company puts the Christmas lights through a shredder that chops the lights into little pieces. These are processed and sorted into recyclable components (i.e., PVC, glass, copper), which are transported to a regional center for further processing. In some cases, however, the PVC cannot be recycled.
All 25% off coupons may be redeemed once on a single order and may not be used with any other offer, discount or coupon. Lights sent to any other address than the one above may not be received or recycled.
For further information on the recycling program, please contact HolidayLEDS.com CEO Philip Curtis at 866-492-4330 or phil(at)holidayleds(dot)com.
###