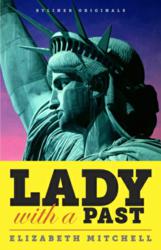 "Elizabeth Mitchell has written a page-turner, exposing the riveting history of the Statue of Liberty... A stunning jewel of intrigue."

--Martha McPhee, author of L'America and Dear Money
San Francisco, CA (PRWEB) October 28, 2011
Much of what you learned in grade school about our most beloved American icon is wrong, writes bestselling author Elizabeth Mitchell in Lady with a Past, a new Byliner Original e-book to be published October 26. For starters, the Statue of Liberty was originally meant for Egypt, conceived to be a giant slave greeting travelers on the Suez Canal. And when instead she landed on American shores, she wasn't an outright gift from France, but the remarkable scheme of a grandiose Frenchman who tried to hustle everyone from Ulysses S. Grant to Henry Wadsworth Longfellow in an attempt to get his colossus built—somewhere.
In this surprising and entertaining biography of America's most famous metal Amazon, Elizabeth Mitchell, author of the Byliner Original bestseller The Fearless Mrs. Goodwin, provides a portrait of not just the Statue of Liberty but her deluded creator. Powered by fierce ambition and ego, Frédéric Auguste Bartholdi spent nearly two decades building Lady Liberty, which he considered to be less a symbol of freedom than a monument to himself. In Bartholdi's remarkable, mostly overlooked diary and in colorful letters to his mother—the model for Liberty's imposing face—Mitchell finds a comically self-serving artiste who looks down his Gallic nose at the young and burgeoning United States. But it's those same "subpar" Americans who, in the end, get the job done. Timed to the 125th anniversary of the statue on October 28th, 2011, Mitchell's book tells the real, unvarnished story of how Lady Liberty, beacon to the world, came to be.
Elizabeth Mitchell is the author of Three Strides Before the Wire: The Dark and Beautiful World of Horse Racing; W: Revenge of the Bush Dynasty; and the Byliner bestseller The Fearless Mrs. Goodwin, about the adventures of New York City's first female police detective.
Byliner Originals are e-books of compelling nonfiction that can be read in a single sitting. Other Byliner Originals include Jon Krakauer's Three Cups of Deceit, Ann Patchett's The Getaway Car, William T. Vollmann's Into the Forbidden Zone, The Cartel by Taylor Branch and Cooking Solves Everything by Mark Bittman. The companion website, Byliner.com, combines curated archives of the best nonfiction writers' work with personalized recommendations. It allows fans of great storytelling to easily find, share, and discuss new and classic work by their favorite authors.
Lady with a Past will be available for $1.99 at BarnesAndNoble.com, as a Quick Read in Apple's iBook store, in the Amazon Kindle Singles store, and in the Google eBookstore.
For an Advanced Reader Copy of Lady with a Past or to schedule an interview with Elizabeth Mitchell or Byliner's editors, please contact Clare Hertel at clare(at)byliner(dot)com; 505-474-6783.
###