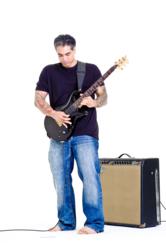 I can get your child excited and motivated to practice hard and reach his or her potential!
Fort Lauderdale, FL (PRWEB) October 29, 2011
Dyce, is the consummate musician, and is known as the premier Fort Lauderdale guitar teacher; both adults and kids love his teaching methods, and playing abilities. He not only knows how to play all of the great rock classics that adults grew up with—he can play the songs that the kids currently have on their iPods, as well.
Dyce utilizes an action-packed instructional technique that gets kids learning real songs as soon as possible—all while teaching them music theory and scales that connect the songs they are learning to real, practical theory. In short, it's a hands-on way of learning the instrument that gets results.
Parents whose kids are absolute beginners will be happy to hear that there are many advantages to taking music lessons as a child. Research studies have shown that brain activity actually increases while playing music—and in fact grades go up. Practicing and studying music fosters self discipline and diligence, traits that will carry over to all intellectual pursuits, and later on in life, at work.
One recent university study—using over 1,000 children at 50+ schools—illustrated that there are many benefits to studying music. Kids involved with music learned new languages quicker, learned to read more easily, socialized better with other kids—and perhaps best of all—enjoyed school more than their classmates who don't play music.
For absolute beginners, that first guitar teacher can have an incredible impact on their future musical experience—good or bad. Unfortunately, most beginner guitar lessons offer no real plan, no real blueprint on how to learn the guitar. However, the lessons of this Fort Lauderdale and Miami guitar teacher are completely different.
Each of Dyce's Fort Lauderdale guitar lessons flow logically to the next. Students learn the guitar the right way, building on concepts, reinforcing their knowledge, building confidence—and most importantly—having fun! Dyce's students learn how to play the guitar like the pros do, right from their very first lesson.
For more information on having your child study guitar with a teacher who will truly inspire, contact Dyce directly at dyce(at)dycekimura(dot)com, or 786-457-3687.
###