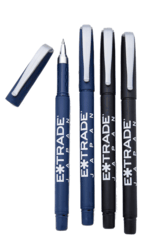 These personalized gel pens come in impressive colors to suite everyone's requirements.
Matawan NJ (PRWEB) October 28, 2011
Pensxpress.com is always ranked among the top promotional pens suppliers because this company deals only with the highest quality promotional pens. As of now Pensxpress.com has added two new types of promotional pens to its exhaustive collections namely Xpress Gel Pens A and Xpress Gel Ink Pens B. These personalized gel pens come in impressive colors to suite everyone's requirements.
Every organization is trying hard to improve their visibility and enhance their market share. Not every company can afford to set aside a huge budget for marketing campaigns. For companies with limited promotional budget Pensexpress.com offers whole new range of promotional pens and personalized gel pens. One cannot find a cheaper range of promotional items. All the pens including the new additions featured at Pensxpress.com are not only very affordable but these promotional pens are also very effective promotional tools.
Pensxpress.com has been in this industry for several years and over the years this company has achieved great heights by providing customers with the most exhaustive range of promotional pens. All the pens from this company are of the highest quality. Customers therefore get the best value for money. Pensxpress.com can handle even high volume orders though they have the lowest minimum order quantity in the industry. Customers can order as low as 50 pens where as most of the suppliers have a minimum order quantity of 300 pens. This company offers very comprehensive service by also taking care of personalization of the gel pens. Customers need not have to find another service provider for the customization of the pens.
The new range of gel pens added to the Pensxpress.com collection are very smooth to write. Blue pens come with blue refills and black pens come with black refills. Online ordering system of promotional pens at Pensxpress.com makes the entire task of stocking promotional items very easy and fast. Customers can place the orders any time of the day or night.
As a professional company Pensxpress.com offers very dependable customer service which makes this service provider stand out from the rest of the competitors in the industry. By regularly updating its inventory with new products, this company continues to attract many new customers and attracts makes the existing customers return whenever there is need for promotional pens. For more information on the latest collection of gel pens please visit http://www.pensxpress.com/gel-ink-pens.html.
###