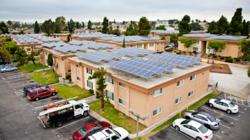 This 464 KW DC solar photovoltaic project is the largest Multi-family Affordable Housing (MASH) project in California
Oceanside, CA (PRWEB) October 28, 2011
Everyday Energy, an Oceanside based designer and installer of solar energy systems for multi-family housing and multi-tenant commercial projects, recently installed nearly 2,000 solar panels spanning 18 rooftops at Park Villas in National City, Calif. This 464 KW DC solar photovoltaic project is the largest Multi-family Affordable Solar Housing (MASH) project in California and will generate 775,000 KWH of electricity annually, enough to power 144 housing units and property common areas.
Everyday Energy worked closely with the property owner, San Diego Community Housing Corporation, to design, finance, and install a system that will reduce green house gas emissions by approximately 5,000 tons of CO2 per year – the equivalent of planting 20,000 trees. Through Virtual Net Metering, 95% of the generated power will be allocated to tenants - supplying nearly 100% of their usage - and 5% will be allocated to common area electrical usage.
In addition to supplying solar energy to the families living in Park Villas, Everyday Energy provided solar installation training to residents interested in becoming solar installation assistants. As a result of this training, Everyday Energy hired 3 course participants to work as solar assistants on their installation team.
To celebrate this outstanding project, Everyday Energy will host a Project Unveiling and Celebration at the property located at 817 Eta Street in National City on November 3, 2011 from 10:00 AM until 1:00 PM. This celebration will include presentations by National City Mayor Ron Morrison, Irene Stillings Director of the California Center for Sustainable Energy, a representative from Trina Solar, and Everyday Energy, CEO Scott Sarem.
###