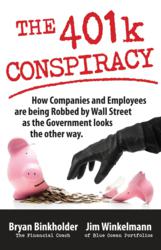 Many employers, wanting to offer their employees the benefit of a retirement nest-egg are now finding themselves at risk of 401(k) related lawsuits.
St. Louis, Missouri (PRWEB) October 29, 2011
After years of controversy and delays, the Department of Labor has issued new 401(k) regulations which involve full transparency of fees to both employers and employees. Bryan Binkholder, The Financial Coach and Jim Winkelmann of Blue Ocean Portfolios, were asked whether this was a good move, or if it would, like many regulations, cause unintended results.
According to the Department of Labor ruling, starting in 2012, plan packagers will be required to provide employers and employees with a full breakdown of costs in quarterly statements. These statements will detail investment performance, include a clear breakdown of fees among funds, and all administrative costs.
For plan participants this will mean the costs will be spelled out in plain English. For employers, the DOL ruling is meant to provide an opportunity to better understand and tweak their current 401(k) plan.
Bryan Binkholder, The Financial Coach, author of 401K Conspiracy: How Companies and Employees Are Being Robbed By Wall Street While the Government Looks the Other Way, and host of a nationally syndicated financial radio broadcast out of St. Louis, MO provided additional insights on the changes, "For decades, the fees surrounding 401(k) plans were largely invisible, not only to employees, but to business owners and plan providers themselves.
Many employers, wanting to offer their employees the benefit of a retirement nest-egg are now finding themselves at risk of 401(k) related lawsuits. Transparency in the industry is something we've been fighting for, but turning on the employer and holding him personally responsible for the excessive fees that were purposely hidden within 401(k) plans by the brokers and insurance companies who package and push these plans is what's now occurring."
The 401(k) Conspiracy
In an effort to keep small business owners informed, Bryan Binkholder and James A. Winkelmann, Registered Fiduciary™ and co-founder of Blue Ocean Portfolios have recently published the 401(k) Conspiracy, which details the increased risks of the small business owner and other fiduciaries who are being sued by the participants of company 401(k) plans.
"The trend," according to Jim Winkelmann, "is to increase the liability of plan sponsors, holding them to a fiduciary standard which places them as the responsible party for the excessive fees wrapped up in many of the 401(k) plans.
One attorney we spoke to has called this 'open season' on fiduciaries. The bottom line here is that small business owners, as fiduciaries, are now at risk for being held personally liable. They could lose their home, savings, and other assets if they inadvertently breach their fiduciary duty, and are then sued by a plan participant."
What About the Plan Packagers?
"While the business owner or plan sponsor is held to a fiduciary standard," explains Bryan Binkholder, "others involved with the plan, such as stockbrokers, mutual fund companies, insurance brokers, and other plan packagers are conveniently not considered to be fiduciaries. If this sounds backwards, it is.The professionals who work in the field on a day-to-day basis, providing investment advice and selling financial products are only held to what's called a 'suitability standard,' which is much lower than the fiduciary standard."
What can the small business owner do to protect against potential lawsuits? According to Binkholder, "The best defense is to rethink your current 401(k) plan. Cutting excess fees and working with a plan manager who will share the fiduciary role, in writing, are the first and most important steps to take."
Bryan Binkholder and Jim Winkelmann have co-authored 401(k) Conspiracy which includes an entire chapter dedicated to bulletproofing businesses against 401(k) related lawsuits. It will be available on The Financial Coach website in November of 2011.
###