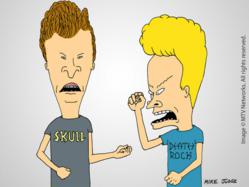 The new Beavis is just hilarious. But I think a lot of us can't help ourselves—breaking the new ground is what gets our motors going" says de Seve. "Rrrrrrr," he added, "Like that."
New York, CA (PRWEB) October 28, 2011
To toast the launch of the much-talked-about Beavis and Butt-Head series reboot, some of the original B&B pioneers, including Baboon Animation and Titmouse staff, reunited last night over drinks and to watch the premiere, at Blue Haven, a pub in Manhattan. Included among the butt-munchers were some of today's strongest powerhouses in new media and animation for both kids and adults.
Attending were Emmy-nominated director-writer Mike de Seve, known for his writing/directing work on DreamWorks' Madagascar and Monsters vs. Aliens, and directing several SNL shorts, over 50 episodes of the Beavis series, Beavis and Butt-Head Do Christmas, and on the B&B feature film; Kit Lybourne, an Executive Producer of the original Liquid Television, on which Beavis premiered in 1993 and co-founder of the Oxygen network and The Whistle, a new transmedia sports network for kids; Machi Tantillo, former Studio Director at MTV Animation and executive at Oxygen; and directors and artists from Adult Swim's Superjail and The Venture Brothers series.
A handful of the original crew went back to their seats to help on the Beavis reboot in LA, but most are on to new territories like iPad and transmedia, noted deSeve. "The new Beavis is just hilarious. But I think a lot of us can't help ourselves—breaking the new ground is what gets our motors going" he said. "Rrrrrrr," he added, "Like that."
Superjail co-creator Ben Gruber, who broke into the biz through Beavis and also de Seve's writing team at MTV Films, remembers the B&B crew: "They were some of the kindest and some of the filthiest people I ever worked with."
"It was a blast. B&B was fun, it was provocative, and it was actually universal in the same way that Dreamworks and Pixar movies are. No, I'm serious." said de Seve over a bottom-shelf whiskey. ("Huh huh -- bottom.")
"The point is, make it from the heart -- characters who really, really want something that you can relate to, and are going for it against absolutely impossible odds. That works whether it's chicks and beer they want, or to find Nemo. That drive is what gets audiences cheering. And in B&B fans' case, farting."
Recalls Gruber about the Beavis crew, "It was just a really great, nice group of people. We were all young. We'd work hard during the day, then go out drinking at Siberia, this bar actually down in the subway. If you worked all night (studio head) Machi would give you a toothbrush in the morning."
Former MTV Animation VP John Andrews (now a development exec at Six Point Harness, makers of MTV's other premiering cartoon, Good Vibes) joined the party by teleconference. He recalls: "It was amazing to have your own cartoon studio right in the middle of Times Square. Like having a pinball machine in your living room." Andrews remembers that it occasionally got hairy, like the time a Beavis episode was so controversial they had to move Mike Judge's voice recording to a secret location for a week. "And we hired Joe Frasier's nephew as bodyguard," says Andrews. "He was large," says deSeve. "We needed large."
De Seve noted, "It's amazing to me that so many friends and colleagues still work together. We're not afraid to try new things. Have you had this calamari with bacon sauce for example?"
One current team-up: Gruber is currently writing with deSeve's collective, Baboon Animation, on KikoRiki, which is the number one cartoon in Russia today. "We've gone global," laughs deSeve. "Till they take our passports."
Baboon Animation is a collective of NY and LA writers, directors and artists in animation and new media, whose motto is "Cartoons for Humans." Baboon is providing the writing for Russia's #1 family series, KikoRiki; and Kit Laybourne's new transmedia network The Whistle; and providing the writing and co-direction on the 5-star-rated iPad spy app, Operation Ajax from Cognito Comics (due for full release November 16).
###