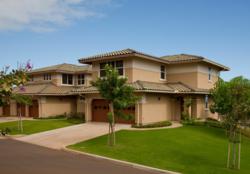 Wailuku, HI (PRWEB) October 28, 2011
Stanford Carr Development responds to buyer demand by making new releases of new Maui homes available at The Villas at Kehalani and Ho'ole'a Terrace in Wailuku, Hawaii. In addition to the new releases, buyers can also take advantage of tremendous pricing specials by purchasing a 3 bedroom Phase 1 home at The Villas from just $474,000 during the Close-Out Sale taking place this month. This pricing is for a limited time only, and quantities are extremely limited. Learn more.
"We have seen a strong increase in demand for Maui real estate, particularly new construction. Our Plan I new homes offer spacious floor plans that truly feel like a single family home, offering convenient low-maintenance living. The Villas Plan I offer the ideal residence for buyers who want a central Maui location with ocean views at value pricing," says Laurie Lee, Principal Broker for the community.
A Phase I home in the Villas includes a spacious 3 bedroom, 2.5 bath floor plan with approximately 1,724 square feet of beautiful living space. There are plenty of designer features spread throughout, and select homes also have stunning panoramic ocean views.
For more information about availability and incentives, call our Sales Center toll-free at (888) 988-8285 or info(at)hooleaterrace(dot)com. You can also connect with the Online Sales Concierge available 7 days per week by Live Chat at [http://www.mauicondoskehalani.com.
About Stanford Carr Development
The Villas at Kehalani is the newest luxury townhome community to hit the Central Maui real estate market from award-winning developer Stanford Carr Development. Since 1990, Stanford Carr has been providing Maui enthusiasts with high quality, high value real estate on Maui. For more information, visit http://www.stanfordcarr.com.
About Paradigm Real Estate Solutions
Paradigm Real Estate Solutions is a full service national Real Estate Sales and Marketing Consultant for Stanford Carr Development and is leveraging its proprietary technology platform Marketing Success Portal® to deliver the next generation of real estate solutions for homebuilders, developers and financial institutions. Paradigm Real Estate Solutions provides market research, proprietary web based technology and internet-centric methods. For more information visit http://www.ParadigmIntel.com.
###