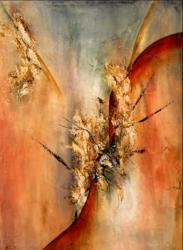 Carefree, Arizona (PRWEB) October 28, 2011
Now in it's 18th year, Thunderbird Artists Carefree Fine Art & Wine Festival, November 4th, 5th & 6th, has become nationally renowned amongst artists and patrons, as the 'opener' for the Fall Season in Arizona. The community of Carefree surrounds the festival, offering unique specialty shops, galleries, boutiques, restaurants and outdoor cafes.
Lyrical Abstraction is the art term associated with works by Deborah Valiquet-Myers. There is a sense of poetry in motion, as the artist's emotions are expressed in a visual form, communicating concepts, thoughts and ideas abstractly. "Discovering and exploring an elemental beingness within and beyond our everyday reality" Says Myers.
In the mid-1950's, business partners K.T. Palmer & Tom Darlington, conceived the Town of Carefree. The ambiance, history and Western heritage of the town is reflected in the street names; Tranquil Trail, Easy Street, Ho & Hum Roads, Long Rifle, Stagecoach and Bloody Basin, to name but a few.
Deborah's paintings have a sculptural sense that further enhances each painting's journey. "I find that there is a power within each painting. A feeling of essence is evoked in a manner, which is graceful and lyrical - often creating a feeling of poetry on canvas. Each is infused with a mystic sensibility as dimensions stretch to infinity and reach for a connection to a higher, more esoteric world. "
Carefree Fine Art & Wine Festival
101 Easy Street,
Downtown Carefree.
10am – 5pm
$3.00. Free to Carefree Residents
info(at)thunderbirdartists(dot)com
http://www.ThunderbirdArtists.com
480-837-5637
###