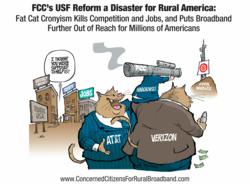 Cell sites – the ones that allow rural Americans to call 911 or conduct business or stay in touch with their children – will be taken down and may never be replaced.
Charlotte, North Carolina (PRWEB) October 28, 2011
In light of the recent announcement made by the FCC about a Universal Service Fund reform, the Concerned Citizens for Rural Broadband have launched a campaign to oppose it.
The following statements are attributable to Concerned Citizens for Rural Broadband:
The Federal Communications Commission (FCC) has taken an unprecedented action to embrace a few giant telecommunication companies at the expense of many smaller regional companies. The FCC's misguided attempt at Universal Service Fund (USF) "reform," announced in Washington on October 28, will mean lost jobs and less access to quality wireless services for consumers in rural areas.
The USF is a fund that is supposed to be used to support the construction and operation of needed communications infrastructure among underserved populations, such as those in rural areas.
Unlike consumers in rural areas, urban consumers enjoy many options for wireless phone technology. They can choose from a long list of competitors with a variety of plans and prices. They can change companies to get a better deal, technology or service. Consumer choice, price, service, reliability and availability of technology are all enhanced by the power of competition.
The FCC does not believe in competition, at least not in rural areas. In fact, the FCC is essentially culling the herd there, killing off small businesses to create an open field for the big guys like Verizon and AT&T.
Historically, with the growth of wireless (or cellular) telephone services, the large wireless companies naturally focused their attention on building out networks to serve cities, suburbs and interstate highways. Sparsely populated areas were not a priority to the big wireless players like Verizon and AT&T.
Rural areas are the top priority of dozens of smaller, regional wireless companies who stepped up to fill need the big wireless companies ignored. These smaller companies risked millions of dollars to build towers and related infrastructure to serve their rural areas. They've done a good job. The USF, which makes up a small part of their revenue, makes it possible for rural wireless companies to serve communities, expand coverage, introduce new technology and improve quality for the rural customer.
The FCC's actions will essentially grant USF subsidies to only one company in a given area, based on a stacked-deck process called a "reverse auction." The FCC, Verizon Wireless and AT&T Mobility crafted the reverse auction idea as a game only the big guys can win. Verizon and AT&T can leverage their size and vast profits, win any auction they want, and pocket a fat cat's share of the $4.5 million USF.
The larger wireless companies can afford to low-ball their bids and gain monopolistic control of any rural market they choose, even if they have no intention of growing services, or serving the rural market well.
Smaller rural companies, the ones who took the risks in these smaller markets, built out the technology, built the towers and the stores in rural markets, and provided good jobs in rural towns, these will be denied any share of the USF. As a result, many will not be able to afford to stay in business, and the millions in taxes, jobs and infrastructure they currently invest in rural America will cease.
Cell sites – the ones that allow rural Americans to call 911 or conduct business or stay in touch with their children – will be taken down and may never be replaced.
Here's another kicker—once the big wireless companies are locked into a market, they can enjoy all the benefits and privileges of a monopoly. No one will be able to compete with them. They will have no incentive to keep technology current, add jobs, hold down prices or improve customer service.
It seems bizarre that the FCC would take any action that stifles fair competition and discourages access to communications among the nation's rural consumers. What is truly incredible at this point in our history, however, is the FCC's indifference to the many good paying jobs that will be lost in rural America as a result of their actions.
Rural communities and consumers deserve better. Rural wireless companies deserve better. Frankly, all of America deserves better than this FCC and its rank cronyism.
Perhaps it is not too late to save jobs and come to the aid of rural consumers. Concerned Citizens for Rural Broadband are asking that consumers contact your congressional representatives and ask them to pressure the FCC into rethinking its unfair approach to USF reform and reversing its attack on rural wireless.
###