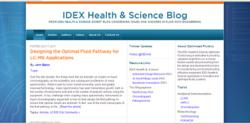 The Optimized Fluidics Blog is a go-to resource for users and developers of fluidic components and instruments.
(PRWEB) October 31, 2011
The Optimized Fluidics blog is dedicated to providing valuable insight from our in-house fluidics experts about everything from the design and development process to the manufacturing and troubleshooting of fluidics equipment. If you are interested in UHPLC & HPLC, degassing technology, liquid handling, microfluidics, system optimization and more, the Optimized Fluidics blog will be a resource you keep coming back to.
Visit our blog here. Sign up to receive updates about our latest blog posts.
IDEX Health & Science LLC designs, develops, and manufactures liquid subassemblies and precision components for a wide range of applications requiring precise control and measurement. We specialize in component integration that results in innovative and optimized OEM fluidic systems. IDEX Health & Science is the synthesis of leading component and technology suppliers to the Analytical Instrument, Diagnostics, and Biotechnologymarkets. Our brands include Eastern Plastics, Innovadyne, Ismatec, Isolation Technologies, Rheodyne, Sapphire Engineering, Systec, and Upchurch Scientific. For more information, visit http://www.idex-hs.com.
###