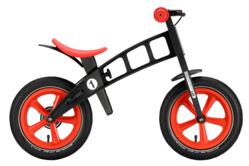 The color-thru composite resin frame and fork means there is no paint to chip, scratches are less visible, and the ride quality is gentle to the still-developing bones of toddlers.
Providence, RI (PRWEB) October 31, 2011
FirstBIKE is a developmental training bike which enhances motor skills, builds confidence, and teaches proper two wheel balance and cornering. FirstBIKE Balance Bikes do not use a drivetrain- there are no pedals or cranks, no chain or sprocket, and no training wheels. Deleting these complicated parts makes it possible for children to safely reach both feet flat to the ground on a much lighter weight bike, giving them a boost in control and self-confidence. Feet are used as stabilizers, for propulsion and for braking.
Children as young as two years old can use FirstBIKE Balance Bikes and benefit from the fast-track program of two-wheeled riding. Training wheels make it impossible for children to feel the sensation of balance. They also prevent children from leaning their bikes in the direction of a turn because training wheels hold the bike fixed in a vertical position. FirstBIKE Balance Bikes completely eliminate the need for training wheels, by letting kids practice the way that comes naturally.
Winner of toy awards across Europe, FirstBIKE can be enjoyed in the home, at the park and is an ideal traveling companion on walks. For boys and girls, FirstBike is the essential educational toy that gives them a head start. Experts agree that through the development of balance, gross motor skills and a sense of independence, children are given the confidence they need for further success, both socially and in the classroom.
FirstBIKE Balance Bikes feature an unbreakable super light glass fiber reinforced composite frame, fork and wheels which are impervious to the elements. This means that it is never a problem to forget FirstBIKE outside in the rain or to hose it off for a good cleaning. The color-thru composite resin frame and fork means there is no paint to chip, scratches are less visible, and the ride quality is gentle to the still-developing bones of toddlers.
Safety is priority one at FirstBIKE. The FirstBIKE steering limiter prevents children from jack-knifing the front wheel. All models of FirstBIKE Balance Bikes are available with a rear drum brake wired to a child sized hand lever for added stopping power. A removable lowering kit makes it safer for children under age two to mount and ride FirstBIKE, by dropping the seat height to about 11.5". Frame stickers are reflective for high visibility.
Selection is a big part of the FirstBIKE buying experience. The "Street", The "Cross", The "Track", The "Special Edition" and The "Big Apple" comprise eighteen different combinations of models and colors that are available. Four choices of rubber tires include the famous Schwalbe Big Apple and even a knobby moto-cross tire for optimal off-road grip. Bikes can be enhanced with original FirstBIKE bells, baskets, and even a front ski attachment for wintertime activities in the snow. FirstBIKE offers more choices than any other balance bike.
Convenience is important to parents. FirstBIKE's tool free seat height adjustment makes sharing between siblings as easy as turning a knob. The available solid polyurethane maintenance free rubber tires are puncture proof, never need inflation and provide superior grip even on smooth surfaces.
Select independent bicycle shops and specialty retailers across the US are now being appointed as FirstBIKE dealers. A drop-ship program is available to qualified online retailers.
About FirstBIKE USA:
FirstBIKE USA is the exclusive US importer and distributor of FirstBIKE Balance Bikes and genuine FirstBIKE accessories. FirstBIKE USA manages and sponsors several elite bike racing teams in New England from their Providence RI location.
###