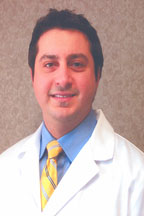 Columbus, Ohio (PRWEB) October 31, 2011
Central Ohio urologist Dr. Fadel Elkhairi of Capital Urology has joined OhioHealth's Dublin Methodist Hospital.
"My goal is to work with patients to resolve their particular issues," said Dr. Elkhairi. "I enjoy explaining the specific pathology that is occurring; as I believe understanding the problem takes away a good deal of the associated anxiety. I like to finish my appointments with a very specific treatment plan. I believe formulating a clear and detailed plan allows both the patient and I to have clear understanding of our goals and helps in future appointments as well. I like to present all options concerning the particular problem, highlighting the benefits and risks of each in order to proceed with the option that is the best fit for each patient. "
Dr. Elkhairi specializes in minimally invasive urologic procedures, including robotic and laparoscopic procedures, stone disease and female urologic conditions. He also provides in-office diagnostic testing, including cystoscopy, urodynamics, ultrasound and peripheral nerve stimulation for refractory urinary urgency and frequency. Dr. Elkhairi graduated from the University of Toledo College of Medicine and completed his residency at the University of Toledo Medical Center.
"I chose to be associated with Dublin Methodist Hospital because the way it is built is quite different from usual hospitals," said Dr. Elkhairi. "It is designed for patient healing and comfort. Every room is a private room with plenty of space for visitors. There is no overhead paging, which limits the noise level in the hospital allowing a patient to recover and heal in a warm and relaxing environment. "
Capital Urology provides an individualized approach to patient care and strives to provide a pleasant experience for patients. Dr. Elkhairi is currently accepting new patients.
"I intentionally leave room in my schedule so I can fit in patients that need to be seen immediately after being referred from a primary care physician. I will communicate any new findings and a treatment plan to primary care physicians via a phone call or letter, so we can coordinate and provide the most effective care for our patients."
Learn more about Central Ohio urologist Dr. Fadel Elkhairi.
About Dublin Methodist Hospital
Grounded in cutting-edge technology and innovation, Dublin Methodist Hospital is a state-of-the-art care site designed to meet the broad range of patient needs in an extraordinarily healing environment. Dublin Methodist is recognized among the nation's top 5 percent of hospitals by HealthGrades for providing outstanding patient experiences. To learn more about Dublin Methodist Hospital, visit http://www.ohiohealth.com/dublinmethodist.
###