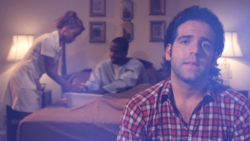 I've always been a music lover. My mom would play The Beatles and The Beach Boys in the car when I was but two years old. Needless to say, it caught on and I've stuck with music ever since.
Manhattan, NY (PRWEB) October 30, 2011
Up and coming musician Anthony Tedesco released his first solo studio album "Exordium" on October 25, 2011. An experienced session player on other studio releases, Tedesco sees this new release as a pivotal launch to his solo musical career. Along with the many solid tracks, the album features the heartfelt rock ballad, "Long Until Gone." Shot entirely on Long Island, New York, the music video that supports the lyrics brings home the personal cost of the hardships U.S. military personnel experience in the performance of their duties.
Tedesco is taking this recognition of the contributions of military personnel to our collective freedom a big step further through his commitment to donate a portion of the album's proceeds to Treat Any Soldier (website: http://www.treatanysoldier.com). This charitable organization provides welcome "care" packages to active military personnel at home and abroad.
It isn't often that a musician with a burgeoning career offers to donate to charity some of the proceeds from a brand-new album. This is usually the path taken by established names in the entertainment world, if taken at all. For Tedesco, however, there was never any question about what he wanted to do.
Coming from a family where members of several generations have served in the military, Tedesco feels he is in the right position to bring awareness to the sometimes unrecognized sacrifices made by all branches of military personnel. Tedesco says, "Much of my family has been in the service. My grandfather was in the Air Force during World War II and my uncle served in the Vietnam War. Both recently passed away. My uncle was exposed to Agent Orange during his tour of duty in Vietnam. It was long after his discharge that the dangers of Agent Orange became well known. He unknowingly brought home a souvenir from active duty that eventually shortened his life."
Tedesco hopes that "Long Until Gone" brings home to listeners the often hidden costs military personnel pay in the execution of their duties and how much we all owe those who serve. Tedesco adds that he wants to show support to "…those who keep our country safe so that we have a place to live, and thrive and do what we love."
Tedesco's altruism has been honed through several other charitable endeavors including headlining a benefit concert for victims of the 2009 L'Aquila, Italy earthquake that raised $30,000. His family has been actively involved with a school for autistic children on Long Island, NY and Tedesco has participated in many fundraisers for the school that have resulted in over $500,000 in donations.
As a songwriter and musician, Tedesco incorporates much of who he is in his art. Raised on the classic sounds of the Beatles and The Beach Boys, Tedesco started writing and playing music by the age of eight and he's never looked back. Music always has been, and will continue to be, the framework within which he lives his life. Using that music to bring awareness to important issues is also a part of that life.
Anthony Tedesco chose the name of his first album with the usual care he brings to all of his work. "Exordium" is defined as "the beginning of something." To Tedesco, this album is the beginning of the communication he hopes to establish with listeners through his music and lyrics as well as the beginning of his solo musical career.
###