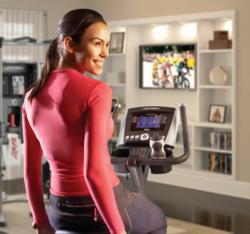 Beat those winter blues by installing your own home gym - Health Clubs at Home sell affordable new and refurbished exercise equipment to keep you in shape without having to brave the elements!
(PRWEB UK) 31 October 2011
With the nights drawing in and the weather turning more wild and wintry, even the most hardened fitness fanatic may start to struggle to maintain a regular exercise routine. Some may give it up altogether in favour of staying under the duvet, while others may try switching to using the local gym to avoid the elements, swapping outside exercise with running on a treadmill, sweating it out on a cross trainer or blasting a few miles on a rowing machine. Often this means setting the alarm very early, getting up in the dark, and driving miles to get to the gym through howling wind and rain. It's not surprising that many exercise regimes fall by the wayside when home becomes a cocoon in winter. But all is not lost!
Health Clubs at Home are helping customers to maintain their exercise routine without stepping foot outside. Fast emerging as one of the largest new and used gym and fitness equipment companies in Europe, Health Clubs at Home plug the gap between working out in the gym and home perfectly by selling affordable, refurbished, commercial-quality gym equipment to fitness fans to use at home.
It's a fantastic option for those who may be strapped for time, can't face exercising in the cold and wet wintry weather, but never dreamt they could afford gym-standard machines. Health Clubs at Home and Gymkit UK make that dream a reality by supplying all of the famous, quality brands, such as Life Fitness, Technogym, Precor, Vplate vibration plates, for the consumer to buy and install in their own homes.
Economically, there has never been a better time to set up a home gym too. Investing in a piece of exercise equipment from Health Clubs at Home is an investment in ones health and fitness, as well as future savings pot. The cost long-term can be far cheaper than a rolling gym membership. It is now a realistic option for anyone to have their very own Lift Fitness treadmill, a Technogym cross trainer, as well as a Precor exercise bike, in the comfort of their own home, at a fraction of the original commercial cost to the gym.
Just imagine the advantages! Beat the early morning gym crowds by setting up a home workout room, equipped with all of the exercise machines a member would expect to see in a large gym, as well as new and exciting brands such as the First Degree Fitness fluid rowing machines.
Health Clubs at Home have a massive range of high-quality new and used, second hand commercial fitness equipment for fitness enthusiasts home gym needs, including well-known brands such as Cybex, Precor, Life Fitness, StarTrac, Technogym, Schwinn, stocking everything from free weights and spin bikes to olympic bars, vibration plates and treadmills.
Remember, the warmer months will be here before you know it, and the beach is a cruel place if you've not kept yourself in shape during the winter. So give Health Clubs at Home a ring on 01733 205551 to discuss all of your home gym requirements.
###