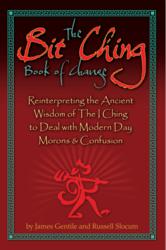 "The concept was that life is not as complicated as most people think it is, that most of their problems and obstacles are self-made."
Wyomissing, PA (PRWEB) October 31, 2011
According to coauthor Russell Slocum, the newly published "Bit Ching Book of Change" didn't start out with any intentional ties to the venerable "I Ching: Book of Changes," the 5000-year old text widely considered to be the foundation for all Eastern philosophy.
Mr. Slocum recalls that his friend and business associate Jim Gentile "was building a studio for M. Night Shayamalan around the time that the Sixth Sense was hot, and 'I see dead people' was the catchphrase of the day. Jim said, 'You wanna write a book with me? It's called 'I See Dumb People, They're Everywhere.'
"The concept was that life is not as complicated as most people think it is, that most of their problems and obstacles are self-made," explains Russ Slocum, a marketing professional who at the time was developing an ad campaign for Mr. Gentile, founder of North Star Construction, Polaris Properties and a number of other enterprises in Eastern Pennsylvania.
"Jim had a pad scrawled with guiding principles that he uses for dealing with people and challenges, practically all one-liners with an element of either humor, irony or jolt to each of them," continues Mr. Slocum. "We spent days discussing each principle and related stories about how he applied it. I was familiar with some of the stories, but most of them were new, and almost all of them had a punch line. You don't often hear anything from Jim that doesn't end with a laugh.
"Throughout the interviews he would occasionally make references to Eastern philosophy. I had known Jim for years, but until that time I had no idea that he was steeped in a lot of those principles. He gave me a copy of the I Ching to read. Over the next couple months, as I went through the tapes to rough out a draft, I was surprised to see how much of it closely paralleled the 64 kuas of the I Ching."
The result is "The Bit Ching Book of Change: Reinterpreting the Ancient Wisdom of The I Ching to Deal with Modern Day Morons & Confusion," now available online from Amazon, Barnes and Noble and a host of other web-based retailers. Gentile and Slocum's modern guide to defining and achieving one's own idea of success and happiness doesn't always tread lightly on the path to enlightenment. There may be a serious message behind most of the chapters, but the authors don't hold back on humor, expletives, or perspectives on common practices and personality traits that they feel get in the way.
As one reviewer put it, "It's like guidance from a sort of Buddha with brass balls."
###