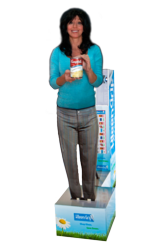 the key to branding is in unique impressions and you can't make a more unique impression than with our Holographic Greeter. Banks, Restaurants and Retailers are finding this a must have for engaging the Customer and meeting their marketing objectives
Charlotte, NC (PRWEB) October 31, 2011
Marketing Ad Group, parent company to the innovative KleenGrip Steri-Strip Shopping Cart handle protectors with Coupons, is expanding their offerings with the Holographic Virtual Greeter. This unique Greeter displays a holographic image projected onto a life-sized cutout that is so unique and lifelike Shoppers can't help but stop and stare. This exciting information, branding and promotional messaging medium uses the very latest in holographic imaging and audio-visual technology to create the illusion of a real person. The Holographic Virtual Greeter can be positioned near the store's entrance and is a high-tech communications platform that serves up in-store information and personal greetings in a decidedly unique fashion.
The virtual aspect of the Holographic Greeter captures shoppers' attention from the moment they enter the store – engaging their visual and auditory senses, and because the Holographic Greeter is so compelling, shoppers are openly receptive to the wealth of information provided, enabling Retailers to convey information and special offers offer in a very personal and exciting way.
It is a terrific communications tool, especially in high-traffic areas or areas and areas where people are forced to stand and wait. The holographic technology will help make a difference in optimizing your customer engagement and enhancing overall shopper communications.
Bill Barrett, Product Development Manager with Marketing Ad Group, says, "The key to branding is in unique impressions and you can't make a more unique impression than with our Holographic Greeter. Banks, restaurants and retailers are finding this a must have for engaging the customer and meeting their marketing objectives."
Marketing Ad Group offers a Co-Op Program for the Holographic Greeter that offers participating retailers an opportunity to turn this captivating promotional piece into a revenue producing vehicle for their business while also benefiting from the increased exposure and sales lift provided by this captivating device.
For more information, contact Bill Barrett at 888-965-5336, or visit http://www.holographicgreeter.com
###