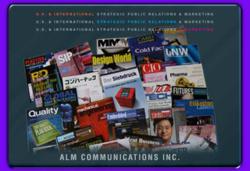 "Global lead generation depends on knowing how today's search engines work and having the math tools to guide your marketing and PR efforts."
- Amy Munice, President, ALM Communications (also dba Global B2B Communications).
Chicago, Illinois (PRWEB) October 28, 2011
ALM Communications is now providing Marketing/PR strategies for 2012+ implementation that are created with high-level mathematics tools originally designed for website optimization and internet marketing. ALM is also known as the world's first PR firm serving global B2B companies to give guarantees (on numbers of published feature stories, published white papers, columns, guest blogs in online publications, etc.) and other pre-defined PR campaign deliverables,
Amy Munice, President and founder of ALM Communications and Global B2B Communications, explains that insights from these mathematical tools are invaluable in helping determine how to tailor marketing budgets to best-match marketing/communications services to reach vertical market targets in different parts of the world.
Munice, a regular contributor to dozens of global trade publications on marketing and web marketing topics, further explains, "From Fortune 100 companies worldwide to small rust-belt manufacturers in the Midwest of the United States, we find that there is widespread misunderstanding of how search engines work and what that implies for which PR and other marketing tactics have the highest returns-on-investment for global lead generation."
"An example would be link-building, that most C-Level managers—worldwide—whom I speak to on a weekly basis think is the most important and essential ingredient to help drive traffic to their websites and for lead generation. That is simply not true across the board. Mathematical tools that can do the equivalent of an X-ray of the competitive landscape for any given company can sometimes show that links do not actually have much bearing for a particular website, but rather what search engine optimization consultants call "on-page SEO factors" are almost the entirety of what matters in that unique competitive landscape. That means that an experienced web copywriter such as myself might be able to entirely change that company's visibility to search engines with a day dedicated to rewriting web copy, and especially if that is done with the aid of mathematical tools that overcome the barriers created by personalized search algorithms."
"Companies—whether B2B or B2C—that don't use such web competitive analysis tools might be concentrating enormous amounts of time and energy on link-building, which is never an overnight proposition, when all their success building links will have negligible returns. When you have the right mathematical tools for web competitive analysis there is no guesswork on how little or how much links matter. That's an example of why ALM Communications became the first global PR firm to fully integrate these mathematical tools for web competitive analysis into all our work on behalf of clients."
"Another example of widespread confusion—especially among US-headquartered companies—is to concentrate on social media or particular social media outlets that have negligible reach in the geographies or vertical markets that they target. Linked In is great, but would Orkut or Xing or Viadeo or Multiply be important to that company's marketing goals as well? And, given how the local search algorithms on all the world's search engines now create virtual barriers to worldwide sales, are these companies giving reputable trade magazines and highly geo-targeted AdWords and other online advertising their due? We invest a lot of time and energy staying up-to-date on how search engines work so that we can ensure our clients get the biggest return from their marketing budgets—sometimes in the awkward position of having to bear the news that the search engine optimization consultants advising them are woefully misinformed."
The mathematical metrics used to develop ALM marketing/PR strategies include: use of Keyword Effectiveness Indices (KEI) tools that identify best window of opportunity keywords to use in both online copy and off-line marketing verbiage; scores of current web pages in terms of how they fare in the face of personalized search algorithms used by modern search engines and priority listings of pages needing rewrite; cost-projections (usually $500 - $1000US total) of migrating current web-designs to search engine friendly open source web frameworks such as WordPress when the content management systems for company websites preclude updating for SEO purposes; surveys of the unique competitive landscape of a company's web pages vis-à-vis both their real-world and virtual world competitors to outline step-by-step plans to overtake competitors for traffic and lead generation for top targeted keywords.
ALM marketing/PR strategy plans also include: identifying full range of global media and top priority media targets that mesh with a company's sales and marketing goals; recommendations for display advertising targets; crystallization of core commercial messages to include in all communications, including mathematically-identified keywords; menus of topics for feature stories, columns, guest blogs; web marketing tactics; direct e-mail campaign concepts; when applicable, special events at trade shows; and other custom tactical approaches geared for each company's specific marketing goals. ALM also refers clients to top-level managers for AdWords and other Pay Per Click Advertising campaigns who work with ALM's colleague and author of "Google AdWords for Dummies", Howie Jacobson, and various website developers credentialed by Mike Marshall, advisor on search engines to the US Patent Office and SEO consultant to many high profile global companies as well as videographers, translators, and other talents needed for effective global marketing.
The ALM Marketing/PR Strategy Plans also provide numerous options for campaign budgets and/or various recommended options on different ways to spend the same total marketing dollars for optimal lead generation.
The fee for an ALM Marketing/PR Strategy is $3,000 (US), credited to the first month of a first-year PR campaign if future collaborative efforts are desired. The Marketing/PR Strategy projects by ALM are designed to also be test balloons of a good fit between ALM Communications and a company, and do not bind either ALM or the company requesting a Strategy development to a full-blown PR campaign.
About ALM Communications:
ALM Communications Inc. is a 20+ year-old global PR agency-- the world's first global PR firm to both give guarantees and also use powerful mathematics tools for highest return-on-investment PR campaigns. For more information contact Amy Munice, President of ALM Communications Inc. (also doing business as Global B2B Communications, http://www.globalb2bcommunications.com) at +773-862-6800 or alm(at)almcommunications.com.
# # #